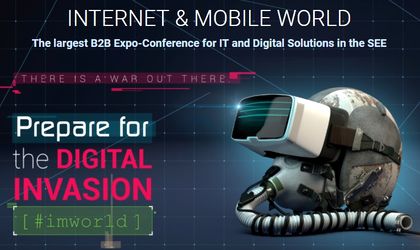 The sixth Internet & Mobile World kicks off tomorrow at Romexpo, Bucharest. Around 8,500 business visitors are expected on Wednesday to pick up their access passes for the event that takes between October 4-5 in the Romanian capital.
The exclusive event will gather executives from the local technology sector and will also host the largest expo-conference B2B in the region.
Business Review is the exclusive media center partner at Internet & Mobile World and offers you a free Digital Architect Pass.

Please write PMBR100A on www.imworld.ro/tickets in the last registration step, and you'll receive the access code on your email.
The minister of communication, Lucian Sova, will attend the official inauguration ceremony for the event alongside the CEP of Telekom Romania, Miroslav Majoros and the artist Neil Harbisson, the first officially recognized cyborg.
IMWorld 2017 – Sneak Peaks
The smart T-shirt taking the pulse of the event. For the first time, Temperfield takes the pulse of IMWorld in real-time using the eCoure technology. The technology allows the collection of data regarding the heart rate of participants that can be fed into the cloud, allowing to see what are the most dynamic areas of the event.
Temperfield's technology can be used to track the heart activity of people with cardio-vascular disease and it automatically submits alerts to emergency services in case of troubles.
Meanwhile, Crescendo will bring to IMWorld Smart Metering Dashboard, the digital solution for the visualization of data that can help decision makers in fields such as IoT, industrial, smart parking and lighting, air quality and waste management.
Nextdocs will showcase how a basic invoice can be scanned and based on Optical Recognition and indexes (invoice fields) it can be transformed into an electronic document that can be easily stored and managed.
There will also be a VR Quest Arena. Evolve Media will provide an immersive Virtual Reality experience at its stand.
Over 140 speakers will be on the six stages of the sixth IMWorld: Main Stage, SMBs & Enterprise Solutions, Developers, Digital & E-Commerce, Marketing & Innovation and the Security Stage.