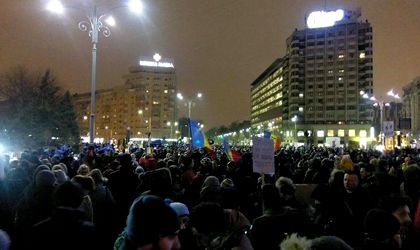 Around 50,000 people rallied for the second Sunday in a row in Bucharest and thousands other took to the streets in major Romanian cities such as Cluj, Timisoara and Sibiu against government plans to grant pardons to some convicts and decriminalize abuse of power.
"Protesters massed in Bucharest's University Square called the ruling Social Democratic Party "the red plague." They later marched to Victory Square, where the government has its main offices, the Associated press reported.
"Shouting "Thieves, thieves", protesters gathered in freezing weather in the capital's main square Piata Universitatii and then rallied outside the justice ministry, the ombudsman's office and the government's headquarters," Reuters said. "Abuse of power accounts for a third of anti-corruption investigations. The ruling leftist Social Democrats' leader Liviu Dragnea is currently on trial in an abuse of power case. Dragnea, who received a two-year suspended jail sentence for a 2012 referendum-rigging conviction, has branded the recent street protests an attempted coup."
"Protesters shouted anti-government slogans and asked for the resignation of the justice minister, chanting: "Stop corruption,", "No pardons, yes schools and hospitals," and backed President Iohannis's calls for a nationwide referendum to step up the anti-corruption fight," Reuters wrote.
"Romania's Social Democrat government plan ease anticorruption laws to decriminalize abuse of power acts, which result in less than about 46,600 euros ($47,800) in damages. Critics claim it is a bid by Prime Minister Sorin Grindeanu to protect Social Democrat (PSD) chairman Liviu Dragnea, who is facing legal proceedings for about half that amount" wrote Deutsche Welle.
Georgeta Gheorghe