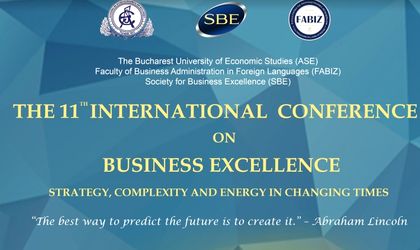 On 30st and 31st of March 2017, the 11th edition of the "International Conference on Business Excellence" will be held in Bucharest. The conference is organized by Society for Business Excellence, in partnership with The Faculty of Business Administration in Foreign Languages, part of the Bucharest University of Economic Studies.
Contemporary society is characterized by a complexity triggered by the technological progress that facilitates the transport, communication and information. In this context, ICBE conference brings together the academic and business environment, by challenging analysts and practitioners, in the same time, to identify the independencies of the current world, and the most suitable strategies and energies to use in order adapt the organizations to the complexity of contemporary society.
In the light of new resources emergence coupled with the social entrepreneurship paradigm, the business environment requires more intelligent and flexible strategies, backed up by a comprehensive education, in order to achieve future sustainable excellence.
The main topics of the conference, but not limited to these, are: Complexity, Challenges and strategies in business education, Energy, Climate Change and Sustainability, Social Entrepreneurship for Local Change, Human Resources – A Game Changer of the Business Strategy, International perspectives on future developments, Sustainability in tertiary sector, Digitization of Businesses, International business finance in a globalized world, Challenges for developing generic and employability skills for global business (workshop) and Business models and competitive advantage for technology transfer organizations (workshop)
The conference will be attended by special guests , internationally appreciated: Cristian Badarinza (professor at the National University of Singapore), Marius Stan (professor at the University of Chicago), Constantin Brătianu (professor at Bucharest University of Economic Studies) and Michal Stoica (professor at Washburn University School of Business); nevertheless, experts from the academia, research, consultancy and business environment will also participate.
Thus, it will be created a stimulating atmosphere favorable to know-how and business excellence transfer that both research and business proficient and young PhDs. will benefit from.
In addition to plenary presentations, there will take place two workshops meant to brainstorm ideas for further business partnerships aiming to increase performance and develop the necessary skills on labor market.
At the end of the two days, the organizers award prizes for the most innovative presentations contributing to the progress of research and business practices.
Society for Business Excellence (SBE) was founded in 2009 with the effort of several teachers from the academic environment, and it presently becomes an international network facilitating the business environment involvement into the academic community's activities.
For more information about the conference and SBE, you can consult the website: www.bizexcellence.ro