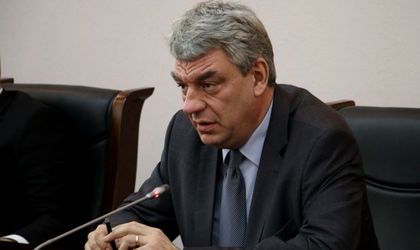 President Klaus Iohannis designated Mihai Tudose as PM, claiming that this move will help defuse Romania's political crisis which could dent the economy.
Tudose, who is interim minister of economy, will form the new government backed by the ruling coalition comprising the Social Democratic Party (PSD) and the Alliance of Liberals and Democrats (ALDE).
According to media reports, the new government might include most of the ministers from the former team of Sorin Grindeanu.
"This crisis that we are going through – it's a political crisis – badly harms Romania, it harms the Romanian economy, it hits the image of Romania internationally and in my opinion (…) this crisis has to stop very quickly," said Iohannis after speaking with the leaders of the political parties. The head of state added that Romania "urgently" needs a new government.
In addition, the president asked the political parties to conclude the procedures for the approval of the new government in Parliament this week.
From the opposition parties, only PMP, which is led by ex-president Traian Basescu, proposed MEP Siegfried Muresan as PM. The liberals said they wanted snap elections, while the USR urged Iohannis not to designate Tudose as PM.
Tudose's government might be voted in Parliament later this week as the ruling coalition holds a majority and has the capacity to get additional votes if necessary from other parties or from the group of minorities.
PM Sorin Grindeanu was toppled by MPs after the ruling coalition decided to strip him of political support, citing poor results in government.
However, Tudose, who was part of Grindeanu's government, had a poor performance at the Ministry of Economy, according to an internal review of the PSD.
For instance, Tudose was tasked with setting up Romania's first sovereign wealth fund, which is still in the planning stage.
In 2016, the prime-minister designate had asked for the withdrawal of his PhD title, as he was accused of plagiarism. He got his PhD at the National Academy of Intelligence (ANI), which is run by the Romanian Intelligence Service (ANI). The ANI has been embroiled in political scandal in recent years, after journalists revealed that a series of high ranking politicians got their PhD titles here, despite being accused of plagiarism.