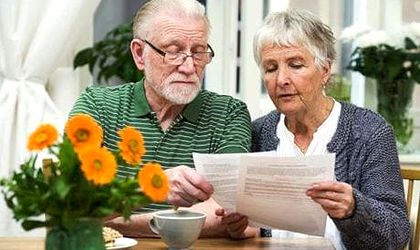 The average number of retired people was 5.225 million in the second quarter of 2017, a drop by 9,000 persons compared with the previous quarter and the average monthly pension reached to RON 1,022, higher by 0.6 percent compared with the last quarter, according to the National Institute of Statistics (INS).
According to the INS, the average public pension was RON 982 and the ratio between the net nominal average pension for the age limit with quota complete level (without taxes and healthcare social insurances contributions) and the net average salary was 51.1 percent (compared with 52.2 percent in the previous quarter).
The index of the real average pensions compared with the previous quarter, calculated as a ratio between the index of the nominal pensions for the calculus of the real pension and the index of the consumer prices was 101.1 percent.
The INS data shows that the overall ratio between the average number of retired people with public social insurances and employees was 9 to 10. This ratio has significant variations on territory, from 5 pensioners to 10 employees in Bucharest, to 17 pensioners to 10 employees in Teleorman county.
The average pension of social insurances varied with significant gaps on territory, the gap between the minimum value and the maximum values exceeds RON 450 (RON 790 in Botosani compared with RON 1,247 in Bucharest).