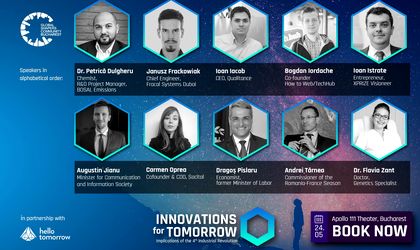 How will the world look in 10, 20 or 30 years? What are the newest technologies that improve our life and what will be their impact on industries, the labour market or the society by the new technologies? Innovations for Tomorrow brings together specialists and business leaders from Dubai, Los Angeles, Brussels, Bucharest and Athens to hold talks on the future of AI, transport, healthcare and societies in general.
Talks will include topics such as the future of transport & mobility, smart cities, future of work, digital citizenship, AI decision making, implantable technologies, personalised medicine, blockchain technology, sharing economy, 3D printing or new business models, divided according to four pillars, namely digital, physical, biological and industrial.
LA-based Romanian winner of the international competition Xprize Ioan Istrate will kick off talks on the future of robots. He is involved in building the first avatars of humanoid robots and carries out his work in Los Angeles and Tokyo: "You can shake hands with someone in Sydney while you're in London and feel real," he said of one of his current projects.
Engineer Petrica Dulgheru will present an overview of the effects of automation on the European industry as well as the future of transport as a result of his long experience in the automotive industry in Belgium and Ireland.
Janusz Frackowiak, Chief Engineer at Fractal will talk about the latest technology he is developing in Dubai. The keywords are Hyperloop, Health Capsules, automated drones, and Augumented Reality. Talks will also include the first 3D office buildings and offices in Dubai.
Minister of Communications and Information Society Augustin Jianu will offer Romania's perspective and discuss the digital agenda and the challenges of new technologies on society. Next, the event will host a series of presentations on the latest advances in Artificial Intelligence (AI) and Data Science by Carmen Oprea, Socital co-founder and Qualitance CEO Ioan Iacob. Bogdan Iordache, co-founder of How to Web and TechHub, will talk about how digital distribution changes business models.
In the last part of the event, Dr Flavia Zant will talk about innovations in genetics and the future of medicine, followed by conversations about the future of work, society and reducing inequality in Romania alongside Dragos Pislaru, economist and former minister of labor, and Andrei Tarnea, former executive director of the Aspen Institute.
The event is organized by Global Shapers Bucharest as a follow-up to talks held in Davos under the framework of the World Economic Forum, in collaboration with Hello Tomorrow, one of the world's biggest competitions and communities for science and IT start-ups. The event is supported by UniCredit Bank, Enevo Group and Theatre Apollo 111.