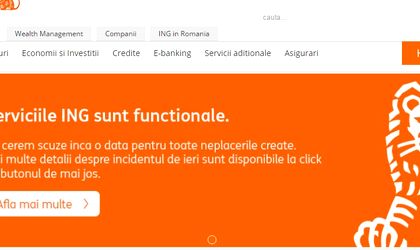 ING Bank Romania said that a fire drill that went wrong at its data center lead to an interruption of all its retail banking operations for around 10 hours on Saturday, in an incident it called "exceptional and without precedent" in the local history of the financial institution.
The lender said that a planned fire test at the data center, which involved the release of Inergen gas, has "severely and unexpectedly impacted several servers and the data storage system."
The first problems emerged after 13.00 and the bank quickly saw that the credit card transactions, the ATM operations, the internet banking platform and its own website in Romania went offline.
"Due to the magnitude and complexity of the faults, unfortunately the time required to restore the activity through the back-up system took more than in the period of tests we run regularly. Moreover, in order to fully ensure the integrity of the data, we made an additional copy of the database before restoring the system, which has prolonged the period in which the services were offline," said the bank in a statement.
Video shot while the ING staff was working to repair the bank's infrastructure
ING Bank added that its home bank service rebecame operational the same day, at 21.15, while the transactions with cards at retailers and ATMs were restarted at 23.00.
The lender apologized for failing to inform its clients earlier about the issues, but claimed that all its communication infrastructure, including website, sms and e-mail was out of order.
The Facebook page of ING Bank was flooded by clients that vented their anger at the bank. Some said that they weren't able to do their shopping, because the cards were not working. Others said they failed to pay for gas at the car fuels stations, while several people complained that they weren't able to pay their bills at the restaurants. The lender also apologized online for the disruption of its services. The bank has launched in the past years a series of digital banking products, so the temporary collapse of its services could have an impact on its image.
ING Bank Romania said it was ready to pay for the commissions of its clients who used the ATMs of other banks to get cash, while its network was offline.
"We are also considering the payment of additional costs generated to clients impacted by the absence of card payments," said the bank.
Ovidiu Posirca