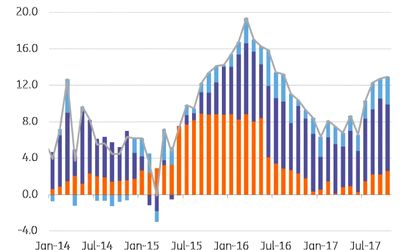 In the first hard data reading since the significant monetary tightening started, ING research has showed that the sales of non-food items are "holding up quite well".
In October, retail sales growth remained almost flat, at 12.9% year-on-year. Sales of non-food items slowed down from 19.2% to 15% year-on-year, and this could be due to September back-to-school effects or to the higher RON interest rates.
Sales for food items and fuel declined compared to the previous month, as a result of the significant increase in prices for these categories.
This data comes after the rise of the 3M ROBOR index which sets the interest rates for RON loans, which surged abruptly during September and October. ING comments that the readings aren't representative of the sharp fall in consumer confidence in October, but that they may be the result of a pass-through lag as the central bank called the rise in interest rates temporary at first. However, a month later they started to consider it permanent.
Due to these recent movements and despite the inertia, ING expects that these shocks will eventually affect consumer behaviour and create a significant slowdown over the next two quarters.