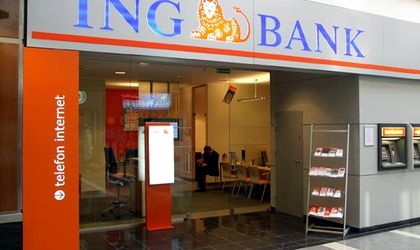 ING Bank Romania's profit went up by 56 percent, reaching RON 391 million in the first nine months of the year, compared with the same period of 2015, the biggest contribution coming from Visa shares sales. The bank increased its loans portfolio and the number active clients in this period.
The total revenue of ING Bank Romania grew by 32 percent  compared with the same period of 2015, reaching RON 988 million. The earnings are due to the business development and the revenues from the shares owned by Visa Europa to Visa Inc, wheose sale added RON 101 million to the net profit, according to a press release of ING.
Excluding the impact of the company's shares sales of payment services, the total revenues reached RON 865 million, a growth by 16 percent and the net profit was RON 290 million, up 15 percent over the one registered during January-September 2015.
"The loan growth and the reach of over 100,000 new active clients prove that our business  strategy is efficient. We'll keep the current development direction and in 2017 we aim to reach a share of 10 percent of clients with wage accounts," said Michal Szczurek, CEO ING Romania.
The operational costs grew by 13 percent to RON 470 million, mainly due to increasing costs with employees, costs, regulation and the investments in technology.
The risk provisions costs grew from RON 32 million to RON 53 million, an evolution generated by the volume increase of the new loans.
The non-performing loans rate dropped by 4 percent to 5.4 percent, less than the average of the local banking system.
The costs-revenue ratio was 54.4 percent and the capital efficiency was 19.3 percent, excluding the Visa transaction.
The loan portfolio grew by 29 percent compared with 2015 to RON 17 billion, mainly on individuals segment and SMEs. The loans in RON became a majority in the bank's balance sheet, after a growth of 53 percent of the local currency portfolio to RON 11.3 billion.
Georgiana Bendre