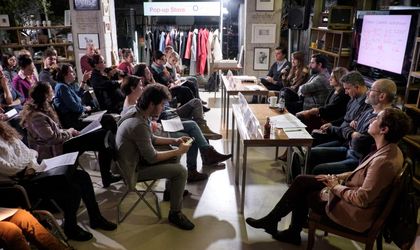 ING Bank and The Institute launched the second edition of Urbaniada, the competition that awards projects providing solutions for the improvement of life in urban space. The winning projects will receive financing in total of EUR 250,000.  
Architects, urbanists, advertisers or members of the organizations in the associative sector that have in mind the rising of the life's quality in the urban space through architectural, urbanism projects or public interventions are invited to enter the competition by December 19 2016.
The projects entered in the contest will be evaluated by a jury of 5 specialists in urbanism, sociology, architecture and anthropology –  Constantin Goagea (Architect, director Zeppelin),  Iulia Stanciu (Architect founder STARH), Maria Duda (Architect, founder BAZA), Mircea Toma (President ActiveWatch), Vera Marin (Architect Urbanist; President of the Association for Urban Transaction), alongside five representatives from the CSR board of ING.
The criteria that will be taken into account while evaluating the projects and their margin in the total grade are: the relevance ( to achieve the objectives of the contest, for the wanted community, for the local cultural context) – 25 percent of the final grade, the impact (the number of the beneficiaries and the followed indicators) – 25 percent, the originality (the innovative character of the project) – 10 percent, the feasibility (the managerial experience and the capacity of involvement)– 10 percent, the methodology (the organization of the implementing team, the relation with the desired community, the realistic approach and the assumed risks, the evaluation) – 10%, the budget (the realistic approach of the budget; value – benefits ratio) – 10 percent and sustainability (how can the project continue and what will be the impact of the project on a long-run) – 10 percent.
The finalists' list of the second edition will be made public on the January 30 2017. The first eight projects will the highest grades will enter the second phase of the judging process, in which the candidates will present individually the projects in front of the jury. The list of the winning projects will be announced on the March 1 2017.
Romanita Oprea