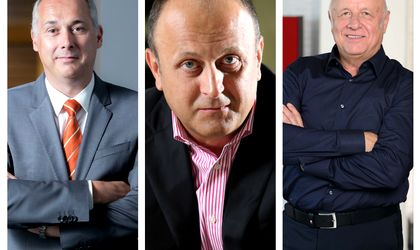 The Romanian furniture market – estimated at over EUR 750 million – has resumed growth for a couple of years now and there are encouraging signs that the trend will maintain in 2016 as well, say industry representatives. As in the years before, the pick-up of construction works on the residential and office segments is the main engine behind this evolution, with an additional boost coming from increased consumer confidence.
Simona Bazavan
The overall positive evolution of the furniture market in 2015 made many local players feel like this was the year when they could finally 'breathe', Alexandru Rizea, the general director of local furniture manufacturer Lemet, told BR. The pick-up of the residential and office markets was and will continue to be an important growth engine for the local furniture market after years of decline in the aftermath of the real estate crash.
"We are seeing an impressive growth of the number of real estate projects, especially in the mid-scale segment, meaning new apartments with surfaces of up to 100 meters and prices of up to EUR 100,000. This obviously has a direct impact on sales of furniture and decorations," Dan Sucu, the president of the Mobexpert Group, one of the largest furniture players on the local market told BR.
Some 47,000 new apartments were delivered in 2015 throughout the country, the highest level since 2010, according to data from the National Institute of Statistics. Real estate consultants are estimating that the growth will maintain in 2016 as well, further fueling the business of local furniture manufacturers. Another important factor behind this overall positive evolution has been and will continue to be the increased consumer confidence. "The VAT cut in mid-2015 and the one this January, alongside salary hikes and the interest rate drop have increased the purchasing power. There is a certain consumer optimism after years of thinking that tomorrow will not get any better. This context encourages consumers to resume investing," added Sucu.
All this indicates that 2016 will be another positive year for the local furniture market, say industry representatives. "We expect to see further development of this positive trend – consumption will continue to grow because people have started to invest again in consumer goods, especially for medium term investments like furniture," Akos Forras, the country manager of furniture retailer Kika Romania told BR, adding that overall, he expects the market to have in 2016 a similar dynamic to last year. Mobexpert Group's head estimates this growth at 10 percent.
And this positive outlook should reflect in companies' 2016 results. "We closed 2015 with a 12.5 percent increase and I believe that for 2016, any result below 15 percent would be a non-performance given the present market conditions," he added. The company plans to resume investments and open four large-scale stores as well the expansion of the Mobexpert outlet network this year. "We will also to continue to invest in the online business where we see great growth potential in the years to come," said Sucu.
After posting a double digit growth in 2015, Kika expects similar results for this year as well and says that it is ready to invest in opening new stores in addition to the unit it operates in western Bucharest. Elsewhere, Lemet too has budgeted growth. In 2015 it posted a EUR 63 million turnover which was up by 9.4 percent y-o-y, and it expects a similar evolution for this year.
More demanding customers
The average budget that Romanian customers are allocating for furniture acquisitions has been constantly growing over the past few years while at the same they are also better informed and tend to invest in quality and comfort, says Kika's country manager.
"Consumer are well informed, don't have much time for shopping and therefore are looking for quality products, fast and efficient solutions and, most of all, a fair value for money," added Forras. The retailer says it has adapted to this by constantly upgrading and diversifying its services, be it professional counseling or complementary services such as delivery, furniture assembly or curtains' sewing.
The average purchase value in Lemet's stores has also been increasing on a yearly basis as the manufacturer has been upgrading its product lines from economy to premium. "The furniture that is now being sold in the Lem's stores and which is being manufactured in our factory in Brebu covers all these segments and options," said Rizea adding that the average purchase value for furnishing a kitchen its customers make is about EUR 1,250.
Mobexpert's head also talks about an increased number of customers. "We have today customers who up until now didn't consider Mobexpert as a place from where to buy their furniture. The fact that we produce locally in our own factories two thirds of the products we sell in our stores allows us to adapt to the customers' demands – smaller furniture pieces, better fitted for apartments of up to 100 meters," concluded Sucu.
Office segment soars ahead
With office space deliveries going up over the past years and many companies in the process of relocating, the office furniture segment has been posting positive results for the past years.  "Since 2014, The Romanian office furniture and fit-out market is experiencing accelerated growth. 2015 confirmed it and we look at 2016 and 2017 to keep doing so," Christophe Weller, managing partner of Corporate Office Solutions (COS), told BR.
This positive trend has also been reflected into the company's turnover. COS posted an all-time record level of sales of EUR 16.2 million in 2015 and plans to increase the level by 25 percent to EUR 20 million this year. "The delivery of a large number of Class A office space in 2016, along with the wish of many companies to relocate to new facilities and the entry of newcomers in Romania offer this larger potential," explained Weller.
Indeed, a whopping level of some 360,000 sqm of office space is scheduled for delivery this year in Bucharest as part of 17 office projects, say real estate consultants. This level is the highest since 2009 and is good news for companies offering office furniture solutions. Growth also comes from companies that are upgrading their office as a means to attract and retain employees.
"The workplace is now considered as a key element in developing and retaining talents and boosting employee engagement. Companies are fully aware that the office space needs to be offering well-being to the employees, in order for them to perform better and feel happy at work," he added. Some global trends in office design that are already applying in Romania include a focus on acoustics alongside the interior design itself and solutions to help employees maintain focus. Physical activity as well as simply standing up can help bolster creativity so the use of standing-height furniture or ergonomic chairs designed for mobility are another trend.