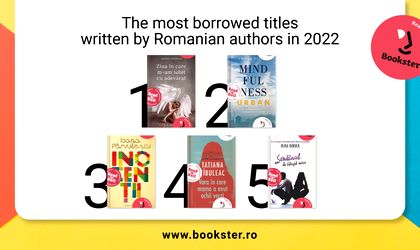 2022 has brought us new challenges and uncertainties, and many Romanians have found comfort in the stories within books. People from companies that offer access to Bookster as one of their employee benefits appreciated books that explore personal development, literature, and professional development, borrowing over a million copies through the platform.
"When the Body Says No: The Cost of Hidden Stress" – the most borrowed book through Bookster
The challenges of the past year have kept up Bookster subscribers' increased interest in readings focused on personal development with an emphasis on understanding emotions.
The book "When the Body Says No" was the most sought-after on the Bookster platform. In the aftermath of a decades-long exceptional medical career studying the link between stress and illness, Gabor Maté has collected the stories of his patients. He compares them with the latest clinical studies and reveals the immediate and often overlooked consequences of everyday stress. Thus, the book is a plea for biopsychosocial medicine, one of the best ways to free ourselves from this terrible affliction of our age.
The top of the most read books of 2022 is filled with titles that have also been popular in previous years, such as:
"The Silent Patient" by Alex Michaelides;
"Where the Crawdads Sing" by Delia Owens;
"Atomic Habits" by James Clear;
"Rich Dad Poor Dad" by Robert Kiyosaki.
Andreea Săvulescu, one of the top Romanian authors
A positive phenomenon observed lately points to an increase in the number of borrowings of books written by Romanian authors. In their books, the readers encounter familiar themes and situations and are offered an overview of our own culture with which they can easily identify.
As a result, both favourite authors of 2021, such as Andreea Săvulescu and Gáspár György, and new names, such as Ioana Pârvulescu and Tatiana Țîbuleac, are at the top of the 2022 list. Their most sought-after titles were:
"Ziua în care m-am iubit cu adevărat" by Andreea Săvulescu;
"Mindfulness urban" by Gáspár György;
"Inocenții" by Ioana Pârvulescu;
"Vara în care mama a avut ochii verzi" by Tatiana Țîbuleac;
"Străinul de lângă mine" by Irina Binder.
Similar to previous years, one can easily notice the same increased interest in understanding one's own emotions, but also in methods for acquiring balance and prosperity in life. Among the books recently added to Bookster's collection that have attracted the most attention we find:
"The Myth of Normal" by Gabor Maté;
"Friends, Lovers, and the Big Terrible Thing" by Matthew Perry;
"A Radical Awakening" by Shefali Tsabary;
"Dragă, unde-s banii?" by Adrian Asoltanie;
"The Girl in the Letter" by Emily Gunnis.
Romance and mystery novels, the favourites of literature lovers
Romance and mystery titles are at the top of fiction fans' choices, a trend continuing from 2021. There is also a growing interest in books about other cultures and civilisations, with a focus on the experiences of women in oppressive regimes outside Europe. Also, as of 2021, World War II remains an intensely explored topic among Bookster subscribers.
In terms of fiction authors, Kristin Hannah and Fredrik Backman continue to be ranked in the top positions, alongside Jojo Moyes and Agatha Christie.
IT-related readings – the most sought-after for professional development
Regarding professional development, preferences remained constant in 2022: IT-related readings continue to be in high demand, alongside educational resources on finance and investment, which remain one of the main categories of interest.
"We are pleased to see, in yet another annual retrospective, how important and present reading is in the lives of our subscribers. How worries are put aside for a little while exploring a fantasy world or how we take inspiration from books to better understand the context in which we live, but also to dream of a better life. We aim to be as present as possible for our readers in 2023 and to be able to meet their needs with as many great books as possible," says Teodora Rădulescu, CEO of Bookster.
This year, Bookster is focusing its attention on three main areas designed to provide access to even more quality reading and personal growth opportunities: ease of use of the platform, available content, and activities aimed at encouraging reading.
The content available on bookster.ro will be diversified through continued partnerships with libraries across Romania, with books, articles, and videos on topics such as stress management, personal finance, travel, career, and science, for both children and adults. The platform will also include more inspiring biographies and stories, topics that the Bookster community has shown interest in.
Moreover, Bookster chooses to diversify both the format and the languages available for reading on the platform. There will be more and more short audio content – summaries and children's stories. There will also be content available in two new languages: Hungarian and German. This is an addition to the 3 languages that are already available today on the platform – Romanian, English, and French.