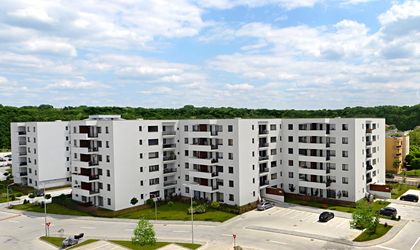 Impact Developer & Contractor Romania has concluded over 300 contracts and selling pre-contracts for the apartments in the GREENFIELD project, a residential compound in Baneasa in the first semester of the year, summing a total of EUR 23.85 million (VAT included).
Records show that on average, there were 50 apartments contracted monthly, with a sales record registered in March consisting of 72 apartments sold. Approximately 28 percent of apartments were sold through the state-backed "First Home" program for first-time home buyers.
The most popular apartments were the two room apartments (currently sold out) with 175 units sold. The three room apartments were on the second place, with 103 units sold in the six months period.
The apartments are located in Salcamilor residential compound, which is the second phase of the GREENFIELD project, covering an area of 7 ha with 35 blocks and a total of 924 apartments. GREENFIELD is located in close proximity to Baneasa forest, near Baneasa shopping Center and the Pipera – Aviatiei office hub.
"This semester, Impact, as a developer, has exceeded their excellent results obtained before 2008. GREENFIELD mainly contributed to this and is a unique project on the Romanian real estate market due to the fact that it is located in District 1, yet in the middle of nature," said the IMPACT representatives.
Andreea Dulgheru