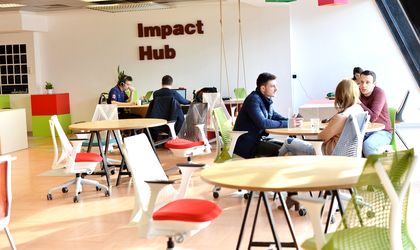 Impact Hub Bucharest, the first organization from Romania that introduced the concept of collaborative space for entrepreneurs and freelancers, registered a turnover over EUR 850,000 in 2015, an increase over 100 percent compared with the last year.
"Impact Hub Bucharest grew constantly every year and this proves that in Romania there's a big potential in entrepreneurship area. I met ambitious, creative people with a positive energy, that are willing to fight for their success and that want to contribute to a better future. The quality of the entrepreneurial initiatives grow year by year and this encourages us to develop new elements around the initial concept, one of the most visible steps being the opening of a new space in Cluj-Napoca in March 2016, " said Vlad Craioveanu, co-founder Impact Hub Bucharest.
Founded in 2012 by Vlad Craioveanu, Oana Paun and Alexandra Pode, Impact Hub Bucharest aims to support the entrepreneurial initiatives with a positive impact on society, developing a communication platform and collaboration across different sectors. Apart from the collaborative space that hosted over 800 members and special events dedicated to them, it developed also a series of programs for incubating and accelerating start-ups, mentoring sessions and Business Clinics events on several themes.
Over 2,000 events were organized during the four years of existence, gathering 80,000 participants. Hubcelerator, 60 Day Challenge, Impact Festival, Connection, are a part of the successful projects of Impact Hub Bucharest.
 Georgiana Bendre