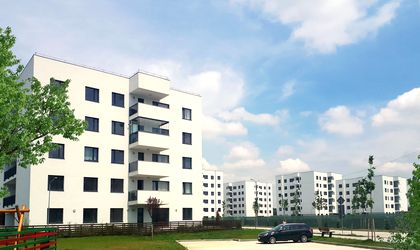 Impact Developer & Contractor completed construction works for 276 new apartments with 2, 3 and 4 rooms in the Greenfield Baneasa Residential District in September. With an estimated value of EUR 23.6 million (plus VAT), the apartments are located in 12 low-rise blocks (4 and 5 floors) and are part of the third phase of the development of the project called Platanes Ensemble.
Approximately 20 percent of all new apartments have already been reserved, with Greenfield Baneasa reaching a total of over 2,300 dwellings delivered and a community of over 4,500 inhabitants.
"The Greenfield Baneasa neighborhood maintains its position as the largest residential project in District 1 of Bucharest, and the stock of apartments delivered this month represents about 30 percent of the total dwellings completed in the Northern area of ​​the capital in 2018. At the same time, Greenfield confirms its attractiveness on the real estate market through the unique positioning in District 1 of the Baneasa and Tunari forests, an extremely important element for young families with or without children who benefit from the natural forest environment in the immediate vicinity of their homes," said Bogdan Oslobeanu, CEO of Impact Developer & Contractor.
The third development phase of Greenfield Baneasa, started in 2016 and due to end in 2019, includes the Platanes Park on an area of ​​6,000 square meters divided into green areas, playgrounds, a multifunctional sports ground, and a fitness and recreation area. It joins the forested neighborhoods to give residents a unique natural setting in which they can relax and spend their free time.
All the apartments delivered in this phase benefit from a modern thermal plant, underfloor heating, finishes and high quality execution. Prices start from EUR 65,000 + VAT for a 2-room apartment (64 sqm), EUR 77,900 + VAT for a 3 room apartment (94 sqm) and from EUR 105,000 + VAT for the 4-room apartments (124 sqm).
Started in 2007, Greenfield Baneasa was planned to grow in several phases. The complex has a total area of ​​60 ha and will total over 6,000 dwellings.