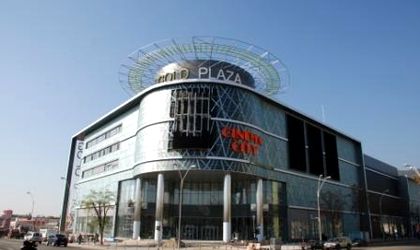 The Immofinanz Group has opened the Gold Plaza shopping and entertainment center in Baia Mare. The project was developed by Immofinanz in partnership with Hungarian Futureal. The Gold Plaza Baia Mare shopping centre has more than 30,000 sqm of rentable space and includes 100 retail shops, a large gastronomy zone and an extensive movie theatre and entertainment area.
The occupancy rate had reached nearly 80 percent by the opening date. Local and international tenants include C&A, New Yorker, Deichmann, Takko, Leonardo, Waikiki, Domo, House of Art, San Francisco, Fox, Douglas, Centrofarm and Orsay.
The mall  serves a catchment area with a population of more than 1.2 million. The shopping centre includes a multiplex movie theatre, bowling lanes and an extensive entertainment area. It also has a casino, a fitness centre with an attractive view of the nearby mountains and a modern gastronomy zone with a diverse offering. The centre is located between the Strada Victoriei and Independentei Boulevard, two main traffic arteries that connect the eastern and western sections of this metropolitan area. With 140,000 residents, Baia Mare is one of the largest cities in northwest Romania.
Eduard Zehetner, CEO of the Immofinanz Group, commented on this project: "In a challenging environment like Romania, I am extremely pleased that we were able to complete and open this facility. For the residents of the region, it is not only a shopping and entertainment centre but – much more important – an important economic impulse."
The shopping centre is only one of three openings in Romania during 2010, although 120 projects were originally planned. The unique market position of the shopping centre within roughly one hour's drive and a catchment area of over one million residents is expected to support the success of the mall, Immofinanz announced.