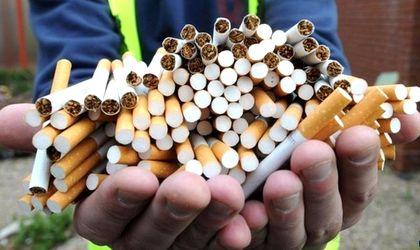 Illegal trade in cigarettes stood at 16.2 percent in January 2017, 1.9 percent lower than in November 2016 (18.1 percent). The level stands below the 2016 average of 16.8 percent and is also lower than in January 2016, when the illegal trade represented 17.8 percent.
According to Marian Marcu, Novel Research Director, at beginning 2017, with 37.6 percent, the north-eastern region remains the region most affected by the illegal cigarettes trade, despite a decrease of 9.3 percent, compared to November 2016. In January 2017, illegal trade in the south-west and western regions stood at 24.6 percent and 24.3 percent respectively, while in the north west it decreased by 7.7 percent compared to November 2016, to 14.7 percent.
Most illegal cigarettes sold in Romania are the 'cheap whites' (57.6 percent), followed by products from Moldova (19.1 percent, up by 6.2 percent, compared to November 2016) and Ukraine (17.3 percent, down by 2.1 percent). The percentage of products coming from Serbia stood at 1.1 percent.
"The activities carried out in the past few months are staring to show their results. I refer to the reintroduction of the mobile teams in January 2017, as well as to the continuation of the process of reorganization of customs structures, started with the re-operationalization of the teams that use dogs and the creation of the Electronic Commerce Monitoring Bureau. This process will continue in parallel with the modernization process of the Romanian Customs," Dorel Fronea, ANAF Vice-president and coordinator of customs structure said.
"I mention that this decrease of the black market pushes us towards the goal of achieving a level of smuggling as close as possible to the EU average of 10 percent. I would like to mention that in July 2013, illegal trade was 11.8 percent. I am convinced that the positive results will increase, as a result of Operation Shield 2017, which was recently launched, the fight against illegal cigarettes trade being the main priority of the Romanian Customs. Very soon, we will launch and implement the '2017-2020 National Strategy of the Customs Authority for preventing and combating trafficking of cigarettes 2017-2020′, initiated by the Directorate General of Customs of the ANAF.