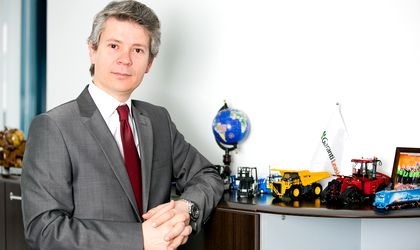 IFC, member of the World Bank Group, has provided an EUR 5 million loan to Garanti Leasing, part of Garanti Romania, one of the most dynamic financial groups on the local market, for financing small and medium enterprises (SMEs) owned or managed by women.
As a result of the agreement, Garanti Leasing will become the first leasing company in Romania directly financing women-owned or -managed SMEs. The company is continuing Garanti Bank's strategy of supporting women entrepreneurs.
This is the third agreement signed by IFC with Garanti Group Romania targeting women entrepreneurs and improving their access to finance. IFC previously provided long term loans to Garanti Bank in 2011 (EUR 22.5 million) and 2014 (EUR 35 million) for onlending to businesses in Romania owned or managed by women.
"Garanti Leasing, as part of Garanti Group, has an ongoing strategy of supporting companies with women shareholders or women in their top management structures," said Okan Yurtsever (photo), general manager, Garanti Leasing.
"In the months to come, we will focus on healthy sustainable growth in the local market and in further diversifying our portfolio of financed assets," added Yurtsever.
Garanti Leasing is a strong supporter of Romanian SMEs and has previously received EUR 7 million from IFC in this regard. In the first quarter of 2017, Garanti Leasing granted new financing worth EUR 21.87 million.
"IFC is actively supporting women entrepreneurs in Romania through its work with Garanti Group," said Manuel Reyes-Retana, IFC Regional head for Financial Institutions Group in Europe, Middle East and North Africa.
"Following our loans to Garanti Bank, we are now also engaging with Garanti Leasing to reach even more women entrepreneurs and increase their access to finance, so they can grow their businesses and generate new employment," concluded Reyes-Retana.