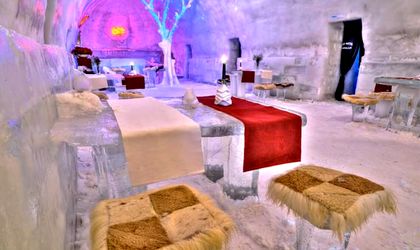 The Ice Hotel at Balea Lake will welcome tourists with 14 rooms and three igloos this year, decorated with characters from popular Hollywood as well as Romanian movies.
Hotel guests will sleep in rooms inspired by blockbusters such as Star Wars, The Hobbit, Ice Age, The Passion Of The Christ, Mihai Viteazul, Toate panzele sus, Rocky III, Gladiator, King Kong, Titanic, Jaws, Harry Potter and, of course, Dracula.
Near the hotel, after January 1, tourists will be able to sleep in three igloos, Smurf Igloo, Jungle by Ice and Jurasic Park, populated with dinosaurs and exotic animals. Temperature inside the hotel ranges from 2 degrees C to – 2 degrees.
The Ice Hotel features an Ice Bar and Ice Restaurant. "The touristic marketing project Hotel of Ice – Balea Lake aims to promote the touristic potential in the Fagaras Mountains, to create and develop a strong tourist brand for Balea Lake," Lidia Badila, Hotel of Ice spokeswoman said.
The first Ice Hotel in Romania was built in 2005 and attracted 3,000 tourists in its first season.
Georgeta Gheorghe