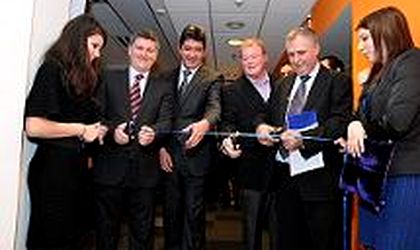 IBM announced today the inauguration of the IBM Bucharest Systems Laboratory, the first location in Europe dedicated to developing and testing IBM hardware and software equipment.
"IBM Bucharest Systems Laboratory represents an example of excellent capabilities to develop the products, combining unique abilities with last-generation technologies, instruments and processes," said Andrew Currier, Director of IBM Bucharest Systems Laboratory.
IBM Bucharest Systems Laboratory, that joins a network of IBM centers at a global level, will benefit from the acquisition of Blade Network Technologies, made by the company in 2010.
The center will become the first laboratory in Romania for developing and testing hardware and software systems for switches, being part of the brand IBM System Networking.
The 100 sqm laboratory will be base for 125 highly trained specialists to develop software products such as IBM Networking Operation System and VMready. IBM will improve the capabilities of virtualization, administration and optimization of data networks.
The IBM laboratory is located in Bucharest Corporate Center, and it joins the IBM Business Analytics laboratory already existent, which was created after IBM acquired Clarity Systems in 2010. Both laboratories will collaborate to offer optimized solutions to manage the explosive growth of the data volume.
"We are confident that the new laboratory IBM Bucharest System Laboratory will help clients to develop their operations more rapidly and become more competitive," said Bogdan Balaci, Country General Manager, IBM Romania.
Otilia Haraga