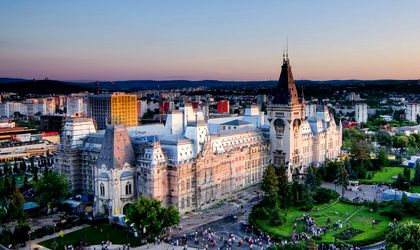 The Iasi palace of Culture re-enters the national cultural circuit after eight years of comprehensive consolidation and rehabilitation works, according to a statement released on the government's website.
The works  lasted 8 years and involved a total of EUR 26.12 million investment (VAT excluded), for an area of 34,000 square metres.
Some 350 workers and specialists carried out the task in two 4-year-and-4-month stages, between September 2008 — January 2016. After three years the monument entered conservation, Agerpres shows. The works resumed in October 2014, as the initially available funds needed to be supplemented to continue and complete all the works that would allow restoring the building to an optimal state of safety and operation.
This was done under the governmental project "The rehabilitation of historic monuments in Romania," funded by the Council of Europe Development Bank and implemented by a project management unit with the Ministry of Culture.
Development
The Iasi Palace of Culture is the third site restored over the past years in the county, after the palace of ruler Alexandru Ioan Cuza at Ruginoasa and the Vasile Alecsandri National Theatre of Iasi.
Prime Minister Dacian Ciolos attended the opening ceremony, alongside Deputy PMs Vasile Dincu and Costin Borc, Chancellor Dragos Tudorache, Minister for Social Dialogue and Public Consultation Violeta Alexandru, Agriculture Minister Achim Irimescu. Also attending the event were Moldova's Culture Minister Monica Babuc and former Culture Minister Kelemen Hunor.
Natalia Martian