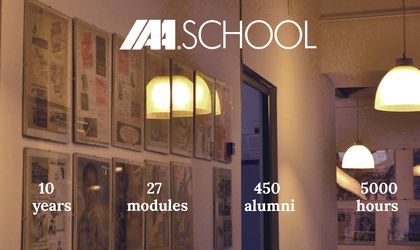 After 10 years of activity, IAA School changes its digital clothes and invites you to explore it on a brand new website, easier to browse, more visual and friendlier to mobile users. Here you'll find stories behind the curtains, advice from alumni, interviews with professors and students, thoughts from surprise guests.
Since 2007 when it launched, the IAA School had over 450 students who went through over 5,000 hours of classes, in 27 modules, with the help of  26 teachers.
This spring, the IAA School invites you in the community. You can choose from 3 possible modules, all being delivered in Romanian:
This module is dedicated to those with less than 3 years of professional experience – Account Executives, Junior Planners, Brand Executives – who want to strengthen their knowledge and prepare their strategic mindset for their future career.
This mini-MBA is set out to those already working at an agency or client for over 4 years and looking to have a clearer grasp on the digital within the communication strategy and to better navigate a digital project.
This module is perfectly tailored for managers and brand specialists who want to deepen their marketing knowledge within the business context, to manage a brand portfolio, to work on a branding or rebranding process.
If you are a visionary communicator, ready to take responsibility of your own professional development at any phase in your career, it means you're ready to go to School.
The new IAA School website has been designed by IAA Romania (Laura Tampa – IAA Educational Programs Director and Raluca Turcanasu – Communication Specialist IAA) together with 8istudio (Vlad Rasuceanu, webdesigner).
For more info, don't hesitate to drop a line to Laura:  laura.tampa [@] iaa.ro
Romanita Oprea