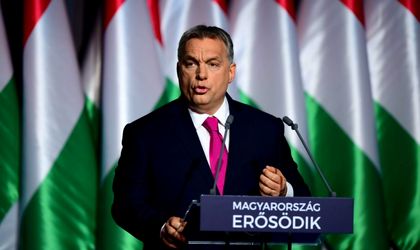 Hungary's anti-migration prime minister, Viktor Orbán, has secured a third consecutive term in office after his Fidesz party won a resounding victory in parliamentary elections on Sunday, according to The Guardian. 
After running a campaign almost exclusively focused on the apparent threat posed by migration, Orbán's Fidesz will have a majority in parliament and may even regain a two-thirds "super-majority" which allows constitutional changes.
With around 93% of votes counted, Fidesz was projected to take 133 of the parliament's 199 seats, the minimum required for the supermajority.
Orbán appeared shortly before midnight to claim victory in front of a cheering crowd outside the Fidesz election headquarters on the Danube in Budapest.
"We won," Orbán said. "We gave ourselves a chance to protect Hungary."
Second place in the vote went to Jobbik, the far-right party that has attempted to re-brand itself as an anti-corruption centrist force. The party is set to win just 26 seats, and its leader, Gábor Vona, said he would resign.
The result is a crushing defeat for the liberal opposition, who had been cautiously optimistic about dealing a blow to Fidesz. Surveys showed that more Hungarians wanted a change of government than another Orbán term, but the divided opposition meant Fidesz was able to win big. The Hungarian electoral system allows for a party to win a large majority of seats without winning a majority of the vote.
Changes made by Orbán's government over recent years have cemented that advantage. Orbán has been accused of presiding over a rollback of democratic norms in other fields. Government-linked figures control much of the media and the opposition has been targeted with a smear campaign that paints them as agents of foreign influence.