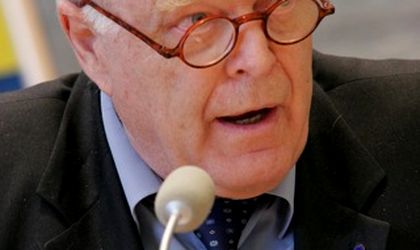 After a three-day visit to Romania focused on the human rights of Roma, the Council of Europe Commissioner for Human Rights, Thomas Hammarberg (pictured), says Romania needs a set of measures to tackle pervasive discrimination against Roma.
"Without resolute action to stamp out anti-Gypsyism, it will not be possible to help many Romanian Roma out of social exclusion and marginalization," Hammarberg said.
 "The necessary legal and institutional frameworks are in place, but anti-Roma sentiment in political discourse and the media is still a major problem," he added. Prejudices among the majority population remain strong and have negative repercussions on the lives of many Roma.
Rather than discussing which term should be used to designate the Roma population, emphasis should be put on educating the general public about Roma history, the commissioner believes. Until this is done, Roma will continue to be forced to leave Romania in search of a better life elsewhere. When they do, their rights, including freedom of movement, must be fully respected, without discrimination. "There is an obvious European dimension to the issue of Roma inclusion in any national context", Commissioner Hammarberg said.
During the visit, Commissioner Hammarberg held discussions with a number of non-governmental organizations and visited Roma communities in the municipality of Barbulesti and the Bucharest neighborhood of Ferentari.
The commissioner points to local administrations and NGOs, which have a key role to play in the inclusion of Roma. Currently, however, they cannot make full use of the resources available at European level as bureaucratic requirements frequently form an obstacle to accessing EU funds. Local authorities need to be active and efficient in developing projects for the improvement of the situation of Roma who are deeply disadvantaged in various fields, not least as regards access to education, employment, health care and housing.
Romanian Roma population was in the spotlight recently after the recent expulsions from France.