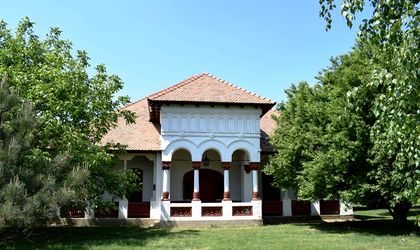 Neo-Romanian architecture mansion from Nana, a village situated in Baragan area, where former president Traian Basescu owns 290 hectares of land, is auctioned by Artmark Historical Estate for a starting price of EUR 175,000 and a estimated selling price of EUR 250,000.
The 400 sqm built area, mansion has a typical mountain aspect, enhanced by the wooden verandah that surrounds the building and gives it a rustic look. What makes the field unique in the southern countryside is the presence of two authentic Maramures houses on the manor.
Both secondary homes, 71 and 47 sqm, respectively, were brought, piece by piece, just out of the Oas Country, some 700 kilometers away. The houses retain all the original elements, from the roof and the wooden nails, to the furniture, stoves, ceramics and specific carpets.
The domain also has a great tourist potential.
It is in the immediate vicinity of acacia forests and you can walk directly from the mansion porch to a 50-square-meter swimming pool, equipped with state-of-the-art water and salt water.
And the village has gained a notoriety at national level after 2013, the family of Traian Basescu, former president of Romania, became the largest agricultural owner in the area by buying an area of ​​290 hectares of land.