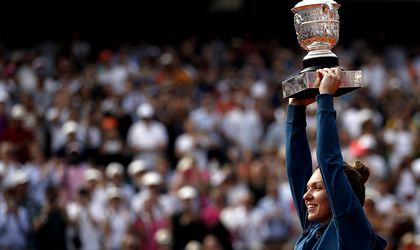 Simona Halep is enjoying the best moments in her career as she won her first Grand Slam championship at Roland Garros on Saturday and is holding the No. 1 position in the WTA rankings for the 32nd week in a row. Taking the trophy at Roland Garros also meant winning EUR 2.2 million.
Since the beginning of 2018, Halep has won EUR 4.5 million. Over her entire career, she has made more than 22 million euros exclusively from tennis.
Her victory in Paris brought her 2,000 WTA points, totaling up to 7,970 points. She is currently 1,225 points ahead of the No. 2 in the ranking, Caroline Wozniacki, who left Roland Garros in the Round of 16.
Simona Halep will return to Romania later today and will present her trophy to fans at 8 pm in front of the National Arena in Bucharest.