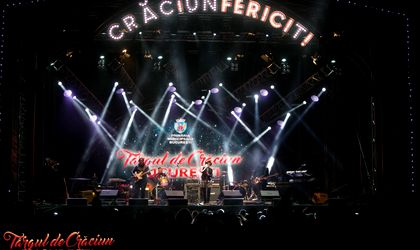 Four days until Christmas, shopping rush and traffic jams, this is how most of the Romanian cities looks like after 5 PM. But some sparkles make the season bearable – while waiting in traffic, you can admire the lights – of course, if your road brings you to the city center. But which are the costs for it? Business Review made some research on the topic.
The extravaganza of this Christmas
The title goes directly to Targu Jiu City Hall, which bought a Christmas tree for EUR 106,800 (VAT included). The new Christmas acquisition has 22 meters and over 8,000 lights. According to the local authorities, the investment made in this metallic Christmas tree is a long term investment, which will last for 12 years at least. The previous Christmas tree was eight years old, but the authorities declared that it was too old and outdated. Furthermore, the locals are not very pleased with the acquisition, taking into consideration that the amount of money is bigger than the buildings' rehabilitation program, for which the City Hall invested only EUR 55,000, writes Press One.
But a city needs more than a Christmas tree, so Targu Jiu City Hall took also some Christmas decorations, more precisely two Snow Men, priced EUR 7,000.
Go green, Oradea
For this year, Oradea City Hall re-used a plastic tree which was purchased last year. It is 12 meters tall and has over 14 km of Christmas decorations – and all costs are supported by a private company, Luxten Lighting Co SA, according to an official press release of the city hall, cited by the local press.

Bucharest city lights
First of all, we should mention that this year Bucharest went on top of the European best-dressed for Christmas capitals. The Msn.com website has made a list of "14 sparkling European cities you have to see at Christmas time," and Bucharest is on it.
"Bucharest's University Square becomes a winter wonderland at Christmas time. If you're lucky there'll be snow to lend an extra touch of magic," is the description for Bucharest on Msn.com. France's capital Paris opens the list, followed by Berlin (Germany), Bucharest (Romania), Budapest (Hungary), Copenhagen (Denmark), Krakow (Poland), Edinburgh (Scotland), Helsinki (Finland), London (England), Madrid (Spain), Prague (Czech Republic), Rome (Italy), Warsaw (Poland), and Moscow (Russia).
The official opening was made by Bucharest's mayor Gabriela Firea on December 1, when Romania also celebrated the National Day. This year, more than 3 million lights have been installed in Bucharest on a 29-kilometer route, which includes the city's biggest boulevards. For the first time, the Old Town also sparks for Christmas. According to PS News, the city lights were free of charge, courtesy of SC LUXTEN LIGHTING COMPANY SA, the same company which brought the Christmas spirit in Oradea. Furthermore, the two Christmas trees cost EUR 33.600 (according to Press One), for the one placed in the Universitatii Square, and EUR 75.150 (according to Press One) for the one from Constitutiei Square. Over EUR 1.6 million were invested in Bucharest's Christmas Market.
Cluj goes lighten up
A bit shocking, the Press One investigation on the subject discovered that an estimated cost for Cluj Napoca Christmas lights is EUR 396,000. Yes, almost half a million euros. But the total cost can be made public after the winter celebrations, say the authorities.
Natural trees city hall fans
Some city halls brought for their citizens natural Christmas trees at absolutely reasonable prices – taking into consideration the other investments.
According to Press One, Targu Mures City Hall has given RON 700 for the tree which currently can be seen in The Roses Square.
Vaslui City Hall invested RON 2149 for their tree, while the city lights cost over EUR 96,000, according to the same investigation led by Press One. We would like to remind you that Vaslui county is one of the poorest of the country, but they have this Christmas spirit well trained.
Photo at this link (goo.gl/yQ7jzX)
Brasov City Hall invested RON 15,000 for the Christmas tree, writes local press. The tree has 28 meters, approximately 70 years old and over 9.7 tonnes. For Christmas lighting, Press One notes that over EUR 100,000 were invested by the City Hall.
Sibiu City Hall has paid over EUR 6,000 for the Christmas Tree which stands in the city center. The local authorities declared that the sum is so big because of the transportation cost, the tree being brought from 200km away. The Christmas lights cost over EUR 44,000, according to Press One investigation.
Oana Vasiliu