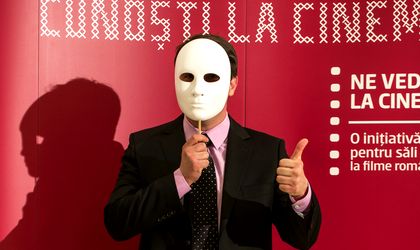 Austrian lender BCR has rolled out this year a campaign, during the Gopo Awards, in a bid to bring to make the Romanian films more popular in the country.
The initiative started on the bank's Facebook page and continued during the Gala evening, when all the eyes were on the red carpet. The filmmakers were invited  – as a manifest gesture to hide behind a mask – in order to encourage the public to know them more in their roles, at the cinema, than by their Facebook pictures.
"I know for sure that the Romanian public has to become conscious of the fact that by buying a cinema ticket they are encouraging the Romanian culture," said actor Alexandru Papadopol, who was nominated for "Best actor in a leading role" at the Gopo Gala.
The initiative "See you at the cinema!" is signed by the agencies Cohn&Jansen JWT and Atelieru.ro.
BCR also had a special initiative during the 2014 edition of the Gopo Gala.
The teams that worked on this deal comprised:
The BCR team: Anca Rarau (Executive Director Marketing Division), Cornelia Plesoianu (Head of BTL Department), Madalina Cazamir (Senior Digital Officer), Laura Moldovan (Senior BTL Officer).
The Cohn&Jansen JWT team: Andrei Cohn (Creative Director & Managing Partner); Alex Negoescu (Creative Director), Felicia Stoica (Senior Copywriter); Alexandra Popa (Junior Copywriter); Monica Radulescu (Head of Digital & Strategic Planner); Arina Stoenică, (Account Director); Oana, McGinley, (Senior Account Executive), Cristian Dobre (BTL&Production Manager), Gabriela Gheorghe (DTP).
The Atelieru team: Andreea Malaescu, (Social Media Manager).
Romanita Oprea