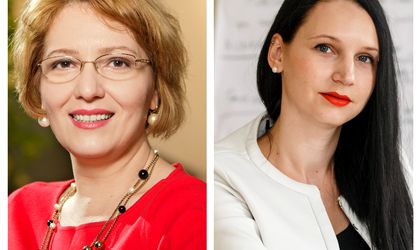 More than 74 percent of Romanian companies used social media for their business in 2015 and are planning to do the same in the future, a considerable increase from 58 percent in 2014. BR looked at an EY Romania study to see how social media measures up in Romania.
Romanita Oprea
Of all the platforms, Facebook proves to be the most important one (92 percent, slightly lower than 93 percent in 2014). The biggest growth was posted by Instagram, rising from 7 percent in 2014 to 20 percent in 2015. The data was recorded and analyzed by EY Romania with the questionnaire applied from 3-20 November 2015. Some 270 respondents from local businesses participated, with the companies having from 50 -1,000 employees.
Of all the respondents, 58 percent come from firms with local capital, 27 percent from those with international capital and the remaining 15 percent from a mix of capital forces.  This is the third time in a row that EY has carried out the survey.
Another interesting aspect presented in the survey is the time that firms spend weekly in order to promote their business on social media. More than half (58 percent, 4 percentage points more than in 2014) spend 1 to 5 hours, 20 percent allocate 6 to 10 hours, and 9 percent devote 11 to 20 hours a week. Only a small percentage,4 percent, spend more than 40 hours a week updating their social media channels, a 1 percentage point increase from 2014.
When it comes to the frequency of posts, in 2015, 36 percent of respondents declared that they update daily, compared to 41 percent in 2014, while 28 percent post once every 2 or 3 days, (a 5 percentage point increase from 2014.)
According to Elena Badea, associate director branding, marketing & communication at EY Romania, the study has three key findings. The most important one is that most companies (91 percent) say that marketing on social networks gives them with a competitive advantage over those that do not use social media. Other top benefits include marketing, sales and recruitment. Networking sees a significant growth (48 percent in 2015, +13 percentage points compared to 2014) and competitive analysis (21 percent in 2015, up 6 percentage points versus 2014).
The second finding is that the "star" platform in Romania remains Facebook. "The top three types of content posted on social media are: information about the company's products and services (77 percent), information about the company (66 percent), and information on campaigns, promotions, direct and indirect sales (52 percent). Social media is also increasingly used for recruitment (37 percent in 2015 compared to 35 percent in 2014)," added Badea.
The role of strategy
This raises a big question: does strategy play an important part in their planning and posting? According to the EY specialists, many times companies don't pay that much attention to social media when creating a marketing plan. Sometimes companies either ignore social media or create a Facebook page "because everyone else is there," without having a plan or direction.
"Usually, these companies generalize and say 'social media doesn't work' and they don't have a strategy, which means they don't have any goals or objectives. If you don't know what you want to achieve, then how do you know if you have succeeded or not? When you have clear goals and know your target audience, you know what to do, how to communicate, what KPIs to measure. Only after knowing this can you analyze what worked and what didn't," said Anca Muraru, founder of The Smmile .
Some 44 percent of the survey respondents said they had a strategy at the marketing department level (down from 46 percent in 2014), while 32 percent admitted to not having a social media strategy at all (compared to 27 percent in 2014). Only 21 percent said they had a strategy involving the whole company, and only 2 percent saw a strategy at the commercial team level (a decrease of 5 percentage points from 2014).
"A strategy can take many forms, as long as it contains the important aspects. From the desire to have a system that works for our clients, after searching different methods, I developed which covers all the important elements when creating a social media strategy: current situation, goals, objectives, strategy, tactics, measure, adapt. Let's eliminate the preconception that it has to be a huge document that usually nobody has the time to read, but one that guides the direction of implementation and helps the company," said Muraru.
Moreover, "a social media strategy should be aligned with business and marketing objectives. It should not be seen as a side project, but one that helps the company achieve their goals and helps the business grow. I think strategy is not only 'good to have' but can make the difference between earning and wasting money on social media, between success and failure," concluded The smmile founder.
"Social networks are 'social' networks, not 'sales' networks. We have to listen to people, talk to them and only after we have developed a relationship, sell them something relevant to their needs. Many companies forget that and treat Facebook as a promotional posts avalanche. One rule that works well is that sales messages should only be 10 percent of the content, while the rest has to bring value (the 70/20/10 model). What we do on social media is the reflection of our brand in customers' perception. If the target audience is spending a lot of time online, that means most of them will see a brand's message in one way or another. Because bad news travels fast, a mistake could become viral and the brand could suffer enormously," commented Muraru.
"When it comes to agencies, I believe they should explain why a strategy is important, ask about the company's marketing goals and work together in the right direction. At the end of the day, agencies shouldn't do social media just for the next invoice, but to really provide value and help their clients grow," added the social media specialist.
The future is omni-channel and s-commerce
According to Muraru, there is no doubt that companies are more open to being present on social media. Still, from her experience, they ask for a consultant's help only after they see that something is not working. "Even though they want a social media presence, many times companies start by appointing an employee in charge of their accounts, usually as a side task. This is when many of the mistakes are made, because no one knows where to start. It's a hard step and, at the same time, it's one of the most important. Often, people start with social media tactics, while they should actually start with understanding the business, the marketing strategy, and social media goals and only then apply the tactics," said Muraru. An overall marketing strategy, derived from the business strategy, would set the guidelines for what should and should not be posted, increasing chances of a positive outcome, especially with competition increasing.
"It is obvious that social media is here to stay for all types of companies, although the spectrum of social media players is quite wide – from zero to hero. In this context, 2017 will consolidate the following trends: (1) content marketing, with a focus on video marketing, (2) mobile marketing, and (3) omni-channel integration," said Badea.
According to the EY Romania director, the most interesting aspects to be brought to light in social media marketing in the following year include companies beginning to use social media platforms internally to allow and facilitate employees to connect at the workplace.
"The rise of mobile advertising and mobile marketing, in general, will teach companies how to use social messaging for increased efficiency in their social media mix and ROI. E-commerce will start to take a turn to s-commerce (social commerce) and this will enable many companies to learn a different philosophy about online customer experience and conversion, making the final link between social media and revenue generation," concluded Badea.