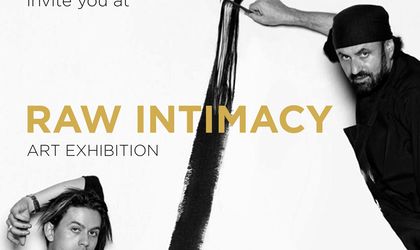 On March 23rd, at Uzina Electrica Filaret, starting 19:30 o'clock, Bucharest will be the host of the world premiere in the contemporary art – the exhibition "Raw Intimacy" of the American artists Connor Tingley and Peter Savic. The exhibition is organized by YOLO Media and is part of a three parts' project, similar shows taking place this year in Bangkok and Los Angeles.
Peter Savic is one of the most appreciated hairstylists in the world. In the 80's he started working with famous photographers such as Herb Ritts, Steven Klein, Ellen von Unwerth or Peter Lindberg and his name is relates to hundreds of magazine editorials in Vogue, Allure, Harper's Baaar or Elle or advertising campaigns for brands like Versace, Calvin Klein, Guess, Revlon, Lancome or L'Oreal.
His career took an incredible turning in the moment he started working for Madonna. The hairstylist created all the look changes for the diva in the 80's and until 1996. The famous Madonna's hairstyles from the videos "Express Yourself", "Vogue", "Rain", "Cherish", "Frozen" and from the tour "Blonde Ambition" were realized by Peter Savic.
During his 40 years of career, Peter worked with all the Hollywood's biggest stars. He is preferred by Naomi Campbell, Sophia Loren, Sharon Stone, Cindy Crawford, Kate Beckinsale, Christina Aguilera, Lady Gaga, Celine Dion, Kim Basigner sau Kim Kardashian, Susan Sarandon, Diana Ross, Celine Dion, Rene Zellweger, Kesha, Cameron Diaz, Nicole Kidman, Jessica Lange, Hilary Swank.
Connor Tingley is, at only 23 years old, considered to be one of the most talented American artists of his generation. Connor started drawing and painting at the age of 3 and at 11 he started studying painting alongside the renowned artist and teacher Sheldon Borenstein. He followed the classes of Art Center College of Design in Los Angeles and got himself fast recognized. His paintings are bought also by famous names such as ASAP Rocky, Kourtney Kardashian, Cindy Crawford, Daphne Guinness, Sophia Loren or Naomi Campbell.
"Raw Intimacy" represents a collaboration between Tingley and Savic, during the exhibition being presented 29 works, from which 3 in an absolute premiere in the art world.
Romanita Oprea