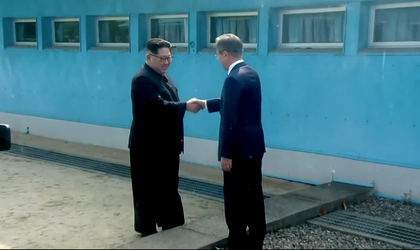 UPDATE 13.20: The leaders of North and South Korea signed a declaration on Friday agreeing to work for the "complete denuclearization of the Korean peninsula". 
At their first summit in more than a decade, the two sides announced they would seek an agreement to establish "permanent" and "solid" peace on the peninsula.
The declaration included promises to pursue military arms reduction, cease "hostile acts," turn their fortified border into a "peace zone," and seek multilateral talks with other countries, such as the United States.
Update 09:52: North Korean leader Kim Jong-un made history on Friday as he crossed into South Korea to hold negotiations with Moon Jae-in in the demilitarized zone as part of the first inter-Korea summit in more than 10 years.
The international press outlets reported that it is the first time a North Korea leader has set foot in its southern neighbour since the end of the Korean War.
The meeting is expected to centre on the denuclearisation of the Korean Peninsula and a permanent peace deal between the two countries.
Moon and Kim had "serious, frank" discussions on denuclearising the Korean Peninsula and attaining permanent peace, a South Korean official told a briefing.