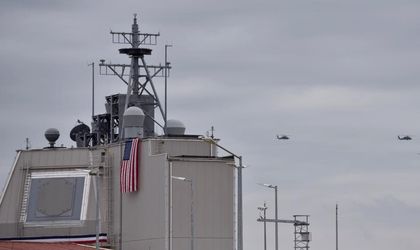 The US will activate on Thursday the the missile defence station at Deveselu, in southern Romania. American and NATO officials were expected to attend a special ceremony at the site.
The base in Romania is part of the Aegis Ballistic Missile System, which has been tested on warships too.  Poland will host a similar base.
"This system does not refer to Russia, it doesn't target Russia, and both the physical and geographic conditions make it impossible to undermine Russia. It is technically impossible to bring down Russian ballistic intercontinental missiles," said NATO secretary general Jens Stoltenberg. The NATO head has met this morning with Romanian president Klaus Iohannis.
Stolenberg added that the shield is designed to provide protection against threats outside the Euro-Atlantic area.
President Iohannis said this system makes both Romania and Europe "safer" and that it has only defensive capabilities.
"NATO has to be prepared to face all challenges or risks. We are not talking here about Russia. We know Russia uses such occasions to be very vocal, but they know just like us that it is headed against Russia, but NATO has to be prepared to deal with other incidents, which come from other areas, outside the euro-atlantic space," said Iohannis.
In the meantime, PM Dacian Ciolos said at Deveselu that this system proves that Romania is a predictable NATO member.
US deputy secretary of defense Robert Work said in a prepared speech that "As long as Iran continues to develop and deploy ballistic missiles, the United States will work with our Allies and partners to defend against this threat. I want to make clear – neither this site nor the site going into Poland – will have the capability to undermine Russia's strategic deterrent. It is a defensive system that is fully compliant with existing arms control regimes. NATO BMD serves as a capability to protect the Alliance from any ballistic missile threats from outside the Euro-Atlantic area.
The US is believed to have spent USD 800 million on radar and SM-2 missile interceptors since 2013. The station will have a battery of SM-2 missile interceptors, according to the BBC.
Ovidiu Posirca