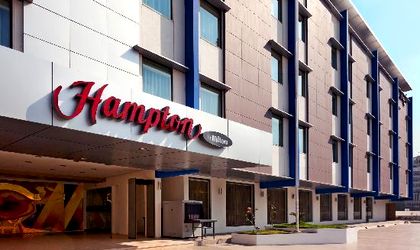 Hilton Worldwide signed a deal to open the first Hampton Hotel in Iasi, reaching a total of 12 units that either operate or are set to open in Romania.
The hotel will be in Inproiect's property and it will function as the second Hampton unit in Romania.
Hampton Iasi's grand opening will take place in the second half of 2014, after the 15-floor building that used to be the old Hotel Europa will be completely refurbished. The hotel will have 123 rooms plus an area of contemporary design meant as a bar and restaurant.
Hampton Iasi will also have a fitness hall, conference rooms and a parking lot fit for 100 cars.
"Being the biggest balcanic country. Romania represents an important market for developing our brands, a market where we will finance other interesting projects. Among these we mention a Doubletree hotel in Sighisoara, which will open later this year. We are confident that in the following years the favorable context for our development will endure and our new hotel in Iasi will in short time become a landmark for the local hotel market", according to Patrick Fitzgibbon,  Senior Vice President, Development, Europe & Africa, Hilton Worldwide
Hampton by Hilton is already present in Romania through Hampton by Hilton Cluj-Napoca, opened last year.
Diana Petrescu