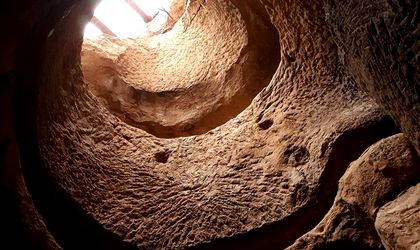 The Orthodox monasteries have existed since old times in Fagaras Land, a region located in Southern Transylvania, where hierarchs, priests and monks crossed  the Carpathians and contributed to the establishment, and afterwards to the support of Transylvanian religious life. In this old land, at a few kilometer distance of Persani, between the cities Brasov and Fagaras, is the village Sinca Veche, where are living close to 4,000 people. Near this village, on the hills with woods, can be found the Temple from Sinca Veche or the Temple of Wishes. It is also known as "Temple of Fate",  The cave from Sinca Veche, "The monastery digged in rock" or the "Aliens' Temple".
The temple is formed of five rooms, where there are two sanctuaries, and on the roof there's a vent where you can see the sky. The walls have different signs and texts in an unknown legend. Here it's the mystery of the place: the wall has on it a portrait which it's believed to be of Jesus. There are two symbols that make the place unique – a star on six corners, the hexagram, known as the David's Star, and the Yin-Yang circle, both esoteric symbols.
   Photo courtesy: romaniadevis.ro
Based on these pieces of information, people have tried to determine the age of this temple, but nobody succeeded to give a real age. However, there are specialists who say it has a Dacian origin or proto-Dacian. Others, even historians, believe it is 7,000 years old. The first data about the temple appeared in 1,700, when this place was used as resting place by Transylvanian monks who were harassed to convert to Catholicism.
It is said that the Temple is magical, there is a lot of positive energy and many unexplainable things happen sometimes, wishes come true for those with pure heart. In the rock there are tickets from visitors who wrote their wishes down.
The legends say that once you enter the cave, you feel a positive energy. During time, the place has become known for healing diseases.
Tourists who want to spend many days in the area can find accommodation at guest houses and they can also trek in Fagaras mountains, as well as in Persani mountains.