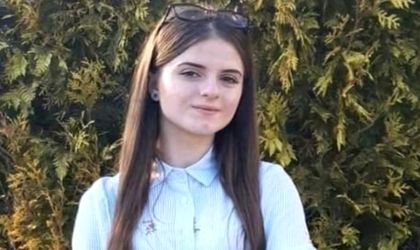 Alexandra, a 15-year-old Romanian girl, was kidnapped on July 24 in Caracal, a poor small town in Oltenia, south-western Romania. One day later, she called the emergency number 112 to call for help, saying that she had been kidnapped, raped and beaten by a man, later identified as 66-year-old local Gheorghe Dinca. "Please, stay with me on the phone, I'm afraid!" she told the police officer on the call. "Get off the phone, you're keeping the line busy!" he answered her, in an indifferent tone.
"He's coming, he's coming!"- these were the last words heard by 112 before Alexandra was apparently murdered. But officials have not yet been able to confirm her death as they are still waiting for results of DNA analysis on some bone fragments found in the man's home.
The head of the Directorate for Investigating Organized Crime and Terrorism (DIICOT) said that they could not yet exclude the possibility of Alexandra being alive and hidden somewhere else, which also opens a discussion about a possible human trafficking network, in which Gheorghe Dinca could have been involved.
The emergency number operator and the policeman answering her phone rebuffed her rather than trying to help, as they spent most of the conversation asking pointless questions and generally treating the girl with arrogance and distrust, according to the transcript and audio recording released publicly by the girl's family.
19 hours later, the police finally entered Gheorghe Dinca's house, only to find out that the girl had been killed just minutes after her last call to 112, by the man who seems to have spent the rest of the time to burn the dead body in an improvised incinerator.
The prosecutors and the policemen then found out that the kidnapper, aged 66 and without a criminal record, may also be responsible for another crime that took place three months earlier under a similar pattern: the kidnapping of a teenage girl called Luiza, aged 18, who is believed to also have been raped and murdered by the same man.
In his testimony after the arrest, Dinca himself said that he had killed both girls, but law enforcement has said that he has provided several contradictory statements, therefore they cannot yet be sure of what really happened.
Amid all this confusion and public anger, several theories and false leads have circulated in the press and online, therefore everyone has ended up with a different opinion of how the crime was really carried out.
Despite the fact that Luiza's disappearance was reported by her parents to the nearby police station, the investigation seems to have stalled for the three months since the event. Worse still, the local police officers sarcastically told her parents that Luiza might have run off with some handsome boy.
The news shocked Romanians and exposed the incompetence, unreliability and disdain of public servants when it comes to regular people in Romania.
"In Romania today, if you are a 'nobody' and your girl has been kidnapped, the police chief tells you that she ran away with someone," Sebastian Oancea, a local journalist, wrote on his Facebook page.
His words reveal the general perception of the country's public services. Despite the fact that the government has increased wages in the public sector over the last few years, the quality and reliability of services remain very poor.
In fact, all public services in Romania are of a low quality, despite the recent high spending on wages for state employees across the board. Every day, Romanians deal with dirty and poorly managed hospitals, arrogant doctors and nurses, corrupt police officers, prosecutors and judges, low-quality education for their children, bad roads and very few motorways, and in some areas, widespread criminality.
Above all, Romanians see incompetent and corrupt politicians who have relatives and protégés controlling institutions and destroying the idea of meritocracy with their irresponsible actions.
For years, these realities were accepted by many as the price they had to pay in a democracy, but were also the main drivers of the biggest migration rates ever seen in a European country: around 5 million Romanians have left their country, mostly over the last decade, to escape corruption and poor quality of life.
The numbers are overwhelming: without any war taking place on its territory, Romania now has the second-largest emigration rates after Syria, a country ravaged by civil war and terrorism.
But Alexandra's tragic disappearance was too much even for Romanians who wouldn't usually pay attention to news and politics.
The government was the first to pay the price: protests were organized in many large cities by people carrying placards with messages like "Police kills!" or "You killed her!".
In Caracal, Alexandra's high school colleagues organized a demonstration carrying the message: "112, I'm Alexandra and I want to live!".
Faced with this level of public rage, the government responded by carrying out some dismissals: the chief of national police was sacked, while the chief of the STS (a secret service running the 112-emergency service) and the Minister of Internal Affairs both resigned.
Some police chiefs from Olt county and Caracal town were also fired, but the public remains dissatisfied and the bad public services continue to fuel this discontent.
After years of politicization and de-professionalization across most public services, ruling party PSD now seems to be paying the price, as it's been revealed that it has no human resources able to run a complex murder investigation.
But the current investigation revealed many other hidden truths. In fact, Romania seems to be the heaven of kidnappers as thousands of children are kidnapped every year and disappear without a trace, while authorities don't really seem to be bothered by this large-scale human trafficking.
This week, the EU office in Romania revealed that in 2015 and 2016, 74 percent of victims of human trafficking in the EU came from Romania, according to data sent by 11 Member States to the European Commission.
Many of the victims are from Oltenia, the same area where Alexandra and Luiza were kidnapped, a region reputed in Romania for being somewhat of a mafia state, where corrupt politicians, policemen, prosecutors and judges allow human trafficking and other criminal networks to work undisturbed.
These long term connections between influential politicians and local public servants look like they've caught up with the PSD now, as people are the angriest they've been in decades.
Despite some small step backs, the ruling party and its government didn't show signs that it was ready to change its policy of naming incompetent but obedient chiefs in the police or other key structures, as the PSD is controlled by powerful local leaders, who are not ready to give up any of their power.
Opposition parties demanded a restructuring of Romania's main institutions, but the ruling alliance doesn't seem willing to take such measures.
In this context, radical ideas are flourishing now in Romania, with some calling for a "total reset" of the country's institutions, as many now see their own country as a failed state that is uncapable to ensure basic security and human rights to its citizens.
Romania may now be at one of its most crucial points in its history. It can choose the right path and improve its government, escaping the vicious nature of a failed state, or it can ignore its issues and try to carry on – but if it does so, its citizens will flee to other countries at an accelerated pace, leaving only the old and incompetent behind.