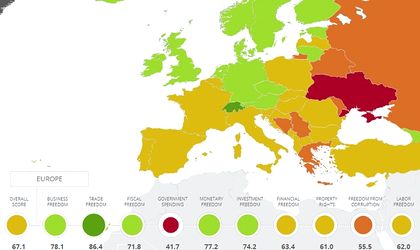 Romania has been ranked 62nd in a list of the world's most economically free countries, according to the yearly study conducted by the Heritage Foundation. Ironically, Romania scored higher than last year (65.5, a 0.4 increase) but dropped three positions in the global standing as a result of others performing even better.
As such, Romania ranked 29th out of the Europe region's 43 countries, improved in monetary freedom, freedom from corruption, and trade freedom. In the world rankings it is preceded by Bulgaria at 61 and followed by Dominica at 63.
Even so, this is still the best standing that Romania has ever achieved in the 20 year history of the index.
"Romania has made tremendous strides in eliminating economically repressive policies. Structural reforms to enhance regulatory efficiency and market openness have advanced the economy to "moderately free" ", reads the study, quoted by zf.ro.
Authors of the study said deeper institutional reforms, particularly related to eradicating corruption and ensuring judicial independence, remain critical to ensuring Romania's ongoing transition to a more resilient market-oriented economy and to improved economic growth.
Top 10 Free Economies of the Modern World
Hong Kong – 90.1
Singapore – 89.4
Australia – 82
Switzerland – 81.6
New Zealand – 81.2
Canada – 80.2
Chile – 78.7
Mauritius – 76.5
Ireland – 76.2
Denmark – 76.1
Check full country rankings here