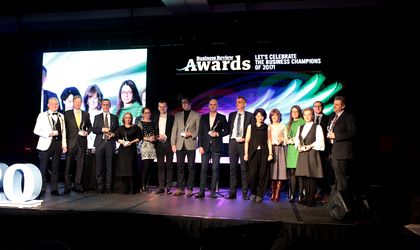 Over 200 representatives from Romania's business environment, including high ranking executives, entrepreneurs and heads of international financial institutions attended on Monday evening the 13th edition of the Business Review Awards Gala 2018.
Over 140 nominees and 60 finalists competed in 11 categories. The awards acknowledge the most dynamic entrepreneurs, executives and companies that have continued to innovate and bring new products and services onto the market.
Here are the winners:
Asociatia Daruieste Viata was awarded for the Best Community Development Initiative (NGOs).
OMV Petrom got the award for the Best Community Development Initiative (Companies).
UiPath got the grand award for Commitment to Innovation in Technology.
Mega Image was awarded for the Best Employer Initiative.
Iulian Stanciu, CEO of eMAG, was named Entrepreneur of the Year.
Radu Savopol, co-founder of 5togo, got the Emerging Entrepreneur of the Year award.
Axxess Capital won in the Deal of the Year category.
Omer Tetik, CEO of Banca Transilvania, was named Business Leader of the Year.
eMAG won the Excellence in Business award.
Typing DNA was named the Best Startup.
Alba Iulia Municipality won the Local Smart Initiative award.
Raiffeisen Bank Romania won in the Green Project category.
The Honorary Recognition Award went to Mariana Gheorghe, the outgoing CEO of OMV Petrom.