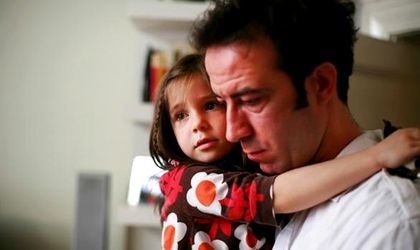 Romania was on the stage of the 18th edition of Sarajevo International Film Festival to pick up the most important award, the Heart of Sarajevo Best Film which went to "Everybody in our family" directed by Radu Jude. Other three prizes were received by Romanian directors: the Heart of Sarajevo Award for Best Documentary Film for "Turn of the lights" directed by Ivana Mladenović, the Special Jury Mention for Short Film "Daddy Rulz" directed by Radu Potcoava and a Work in Progress Award – Special Mention for "Totonel", directed by Alexander Nanau.
"Everybody in our family" is a familiar Romanian story: Marius is a divorced man in his late thirties while his ex-wife, Otilia, remarried an accountant. Their five- year old daughter, Sofia, lives with her mother, causing Marius a deep frustration. According to the law, Marius can spend with his daughter only a limited amount of time. The day Marius goes to take his daughter in a short holiday to the seaside, he finds out that his ex-wife is not at home and he is told that his daughter is sick. He doesn't believe it and tries to take Sofia by force. This small incident proves to be the trigger for a violent and emotional rollercoaster, all the people in the family taking part in a story which mixes humor, violence, childish songs, police interventions, love statements, blood and a haiku. The cast consists of Serban Pavlu, Sofia Nicolaescu, Mihaela Sarbu, Gabriel Spahiu and the veteran actors Tamara Buciuceanu-Botez, Stela Popescu and Alexandru Arsinel.
This film premiere took place at the Berlin International Film Festival in February. The film critics from indiewire.com dubbed it "a masterwork of black comedy and suspense, director Radu Jude's "Everybody In Our Family" typifies the best qualities of contemporary Romanian cinema. Tense to the point of exhaustion, brilliantly shot to evoke a real time effect, and filled with immersive long takes and naturalistic performances, Jude's third feature (following "The Happiest Girl in the World" and "A Film For Friends") chronicles the dissolution of family bonds with relentless innovation. Even when heartbreakingly honest and sad, it still manages to sustain a heightened sense of hilarity".
"Turn Off the Lights" directed by Ivana Mladenovic and the winner of the Heart of Sarajevo Award for Best Documentary Film was first seen at Tribeca Festival in New York. Liza Domnitz describes the synopsis as "after years behind bars, three young Roma men are released from prison. Bidding an emotional farewell to their fellow inmates, they exit to find their rejoicing families celebrating their homecoming with showers of tears, money, and dancing. Though the men accept the adoration with numbed excitement, they are unaccustomed to the expectations of existence on the outside and, consequently, begin to rediscover lives of aggression and arrogance. Among them is Alex, a captivating figure who charismatically addresses his past with a disturbingly blasé attitude toward violence, women, and guilt. Convicted of murdering his girlfriend—his misogynistic persona seemingly unaffected by years of incarceration—Alex drives Ivana Mladenovic's compelling documentary."
The third award received by a Romanian film director was the Special Jury Mention for Short Film "Daddy Rulz," The film presents the common life of a family living in one of the suburbs of Bucharest, and their financial problems. Tavi (Gavril Patru) and Cati (Ioana Flora) are about to lose their apartment because of some unpaid debts. Andrei, their only son, doesn't know that for his parents every day is a survival test; Tavi hasn't been paid for two months, so they're out of food, out of money and almost out of the house because of the delays with the mortgage installments. Although his parents struggle for money, secretly Andrei earns better and better. He makes a lot of cash playing dice in the schoolyard and selling stolen clothes from Spain together with his best friend, Filip.
Last but not least, the "Totonel" film project by Alexander Nanau was awarded the Special Mention in the 'Work in Progress' section.
Oana Vasiliu