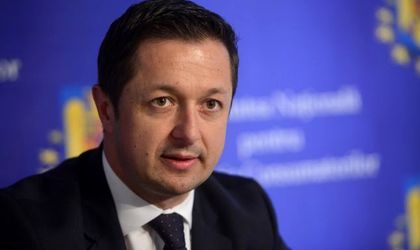 The PSD-ALDE coalition is in the process of deciding the formation of the new Dancila cabinet, and while several ministers are expected to change, the 24-ministry structure of the executive will be maintained.
This morning, Youth and Sports minister Marius Dunca announced that he will withdraw from his role and not be part of the third PSD-ALDE government, which will receive its vote in parliament on Monday.
Dunca said that he had intended to take a step back since a few months ago, but party leader Liviu Dragnea asked him to stay a little longer. He added that since he is also the president of a local party group, he feels responsible for it.
According to news.ro, Dunca is currently involved in a scandal regarding late payments for medals obtained at the European Rowing Championship. Furthermore, Dunca has been accused of trying to get support from sportspeople by giving large prizes for results in non-olympic sports.
Former athlete Gabriela Szabo may take over Dunca's portfolio in the Dancila Cabinet, and this would be her second term as Youth and Sports minister.
Health minister Florian Bodog also announced that he will not continue in his role in the new government, but did not give a reason, saying it was "a personal decision".
Bodog said, "I will unconditionally support the person who will take over my portfolio and I will make sure that all the good projects we started will continue".
According to Digi24, the Health Ministry will most likely be headed by Rodica Nassar, president of the PSD Sector 2 organisation in Bucharest.