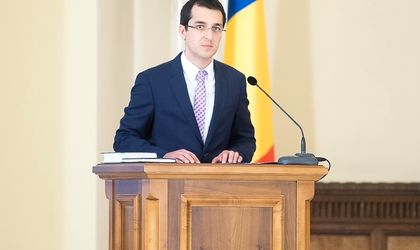 Health Minister Vlad Voiculescu has rejected accusations by Social Democratic Party (PSD) chair Liviu Dragnea, which he dismissed as "lies". The PSD leader accused the Health Minister that he is postponing a decision that would lead to a cut in drug costs.
Speaking before Parliament on Monday, Dragnea argued that Voiculescu was failing to adopt a measure that would allow Romanians to benefit from cheaper drugs. "Basically, this minister chose to support and to offer more money to those who already have a lot of it, without helping those who have nothing. I ask very firmly that you give the order that allows for the cut in medicine prices," the PSD head told the plenum on Monday.
The Health Minister reacted by rejecting the accusations, and said he refuses to make important decisions for Romanian patients under the pressure of the "misinformation, regrettably disseminated by the leader of an important parliamentary party." According to the minister, decisions on the matter should not encourage exports, and protect Romanian patients. Voiculescu also said he was working on a consistent project that prevent Romanian patients from running out of medicines. "Such crises were frequent in last years and I do not want us to go through this again. I also want us to have medicine as cheap as possible. But, contrary to Mr. Dragnea and his advisors, I will do everything in my power to make sure these drugs stay in Romania for Romanians," Voiculescu wrote on Facebook.
"What would happen if the desire of Mr. Dragnea and his advisors would become a reality like this, in a hurry, without any solid analysis? The 'smart boys' that are in charge of distribution will buy all apples with RON 5 and will sell them on other markets, in Germany or the UK, for RON 8. The price difference will go straight to their pockets. This is what distributors involved in parallel drugs exports do on the pharmaceutics market, a significant phenomenon in Romania and one that has expanded over the past years," Voiculescu said.
According to Voiculescu, currently, a lot of drugs are disappearing from the market and Romanian patients are struggling. "There are drugs for which over one third of the amount that entered Romania does not reach patients, instead it is taken over by distributors and sold abroad. Of course there are big financial interests at stake. Profits obtained by the export and sale abroad of drugs are consistent, as assessed by the Competition Council. Patient organizations have been complaining for a long time about the problems created by parallel exports," Voiculescu said.  
Georgeta Gheorghe