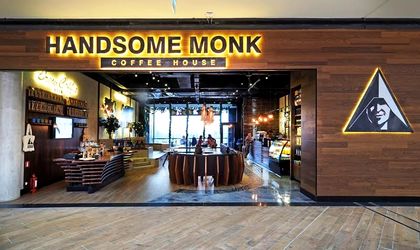 Handsome Monk Coffee House, the new concept coffee shop on the Romanian market, that integrates a brew coffee bar, has opened the coffee shop in ParkLake as a result of an investment of EUR 300,000 and the plan includes a coffee chain and the development of a franchise.
 The concept implementation lasted approximately six months and 10 persons worked on the project.
"Handsome Monk brings something new on the Romanian market, the education of the coffee consumers through a "coffee laboratory", where the barista explains the right process of preparation contributing significantly to the interaction and relation with our clients. We are the supporters of the products as fresh as possible, without preservatives and a balanced diet, where the nutritive products are included, this is why we opened the juice bar as an expansion of the coffee- Forever Green- where we prepare fresh juices, smoothies and fruits and cereals bowl," said Calugaru Frumosu, owner Handsome Monk.
It has also a brew coffee bar, where consumers can try different methods of brew, such as Kemex, Syphon Coffee, V60, Cold Brew.
Georgiana Bendre