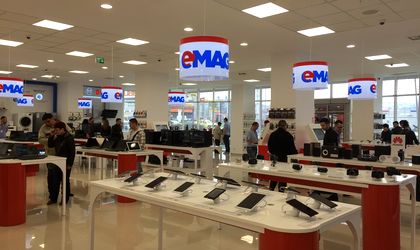 In 2017, for the first time half of orders placed by customers on eMAG came from mobile, company representatives said. Also, the monthly mobile traffic exceeded the 60 percent threshold for the first time. 
According to eMAG representatives, smartphone users used to browse the website in order to gather information on products. In 2017 however, the customers ordered more via the website's mobile version than from a PC. The orders were placed mainly from smartphones and tablets – (51 percent), followed by PC (49 percent). The percentage goes up when it comes to new customers. Specifically, 60 percent of first time customers placed orders from their smartphones.
Half of the clients who ordered via their mobile versions used the eMAG app. "We have constantly improved the eMAG app, and it is the best rated in its category – 4.7. For clients it has become a natural thing to go to eMAG when then want to get informed of buy a product they are interested in. We forecast that, by the end of the year, 75 percent of the visits on eMAG will come from mobile devices," Bogdan Axinia, VP platforms & technology eMAG.
Last year, 64 percent of visits came from smartphone and tablets.
In 2017, eMAG users who used mobile devices to shop are below 40 years of age.  A share of 43 are aged between 25 and 34, followed by those aged 35 and 44.
Most orders placed via mobile devices were delivered in Bucharest, Constanta, Cluj-Napoca, Timis, Iasi, Ilfov, Prahova, Ilfov, Brasov, Arges and Dolj.
The most popular products were children's products, small household products, accessories for mobile phones.