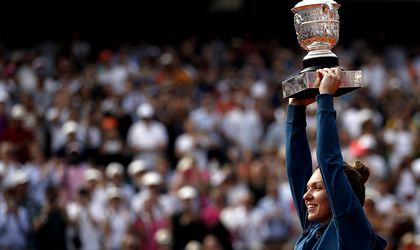 The victory of Romanian tennis player Simona Halep in the final at Roland Garros was covered by the main international media outlets.
The Wall Street Journal points out that "After years of suffering and pain, the No. 1 player in women's tennis has finally won a Grand Slam title."
"Halep has also been helped from an increasingly common strategy in tennis: She has worked with a psychologist for a few years. The woman, Alexis Castorri, helped tennis star Ivan Lendl in the past," according to the WSJ.
The BBC notes that Halep "finally won her first Grand Slam title with a gutsy comeback victory over American 10th seed Sloane Stephens in the French Open final."
ESPN wrote that "Both women are adept at defense, figuring out ways — via speed, strength, skill and instinct — to get nearly every ball back over the net. They're also both able to switch to offense in a snap."
The Guardian wrote that "Halep becomes first Romanian to win major in 40 years."
The Independent states that "Like Caroline Wozniacki, who beat her in the Australian Open final in January, Halep will no longer have to answer questions about whether she deserves to be world No 1 when her portfolio does not include a Grand Slam title."
The Telegraph underlines the fact that "World No 1 Simona Halep finally broke her grand-slam jinx at Roland Garros, producing an unforgettable comeback to burn past the reigning US Open champion Sloane Stephens on the home straight."
CNBC states that "Stephens, seeded 10th, used her powerful game to full effect to take the first set but then ran out of steam to allow Romania's Halep to complete a memorable victory."
Meanwhile, Time noted that "Simona Halep kept telling everybody who would listen: She was a different player. She was stronger mentally. She wanted so much to finally win a Grand Slam title and was sure that, one day, she would."