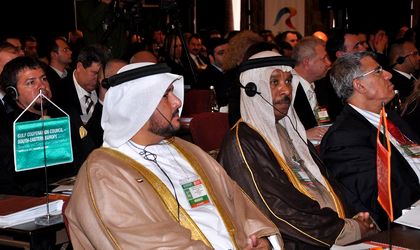 Investors from the Gulf countries are constantly looking for new business opportunities, and could invest several hundred millions of dollars on the long run in Romania and in other South-Eastern economies. This was the conclusion of the first Gulf Cooperation Council (GCC) – Romania economic forum organized this week by Forum Invest.
The event brought to Bucharest about 130 officials and representatives of the business communities from the GCC countries in an attempt to make the local economy better known to potential investors from this region.
Eastern-Europe countries are a more attractable destination than other European countries due to the fact prices are still low in the region, argue Gulf businesspeople. "Why shouldn't your country benefit from the capital that Gulf businesspeople are ready to invest, if the economic environment is the right one?" said Ahaed Rashed Al Hauron, Minister of Trade from Kuwait. He went on, saying that both countries could benefit from stronger bilateral relations. "We don't need capital, but technology and know-how and also labor force for our economies. I believe that all representatives from the GCC countries know that Romania has the characteristics that lead to having good bilateral relations," he added.
In terms of trade, Romania's trade with the United Arab Emirates (UAE) constitutes a large percentage of its overall trade with GCC. In 2009, total trade between the GCC and Romania amounted to USD 580 million and about 35 of this was represented by trade between UAE and Romania. "Although the current level of our bilateral trade is not reflective of the true potential that our strong economies can achieve, the steady growth being witnessed the first 10 months of 2010 alone is promising," said Sheika Lubna Al Qasimi, UAE Minister of Foreign Trade.
Present at the event, President Traian Basescu said that Romania offers business opportunities in almost all the industries, nominating energy, agriculture, tourism and infrastructure. "In Romania one can make anything into a business. One can invest in any field due to the gap with other economies. This gap can be closed only through investments," said the president.
Simona Bazavan