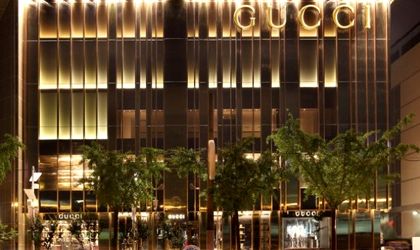 The first Gucci mono brand store will open in Bucharest by mid December this year, despite initial rumors of a possible delay, as announced by CPP Luxury Industry Management Consultants Ltd.
The store will cover a surface of 280 square meters and will be located on the ground floor of Athenee Palace Hilton.
"Gucci will have the best location in Bucharest, not only being positioned in the very heart of the city, on the leading shopping high street of Calea Victoriei, but also being on the right section of Calea Victoriei, with steps from secure parking facilities, and with large windows assuring excellent visibility," according to Oliver Petcu, managing director of CPP Luxury Industry Management Consultants Ltd.
Despite the difficult market conditions, GUCCI will likely have a good performance in Romania due to the notoriety and desirability of the brand which ranks among the top three preferred luxury brands by Romanian wealthy consumers, but also due to the fact that the brand has a large collection of leather goods, according to CPP.
The luxury market in Romania has been among the worst affected in the Central and Eastern European region, with sales drops of up to 20 percent in 2009 and 30 percent in 2010, compared to 2008. According to CPP, a recovery is not expected before the fall season of 2011.
The Gucci store in Bucharest will be directly operated by Gucci, which also operates directly its stores in Prague and Budapest.
The decision to operate directly in Romania is a recognition of the potential of the Romanian luxury market, rival Louis Vuitton operating a very successfull store in Bucharest since 2008, according to CPP.
Other luxury brands with mono brand stores in Bucharest include Louis Vuitton, Canali, Hugo Boss, Moschino, Paul & Shark, Ermenegildo Zegna, Pal Zileri.
Otilia Haraga