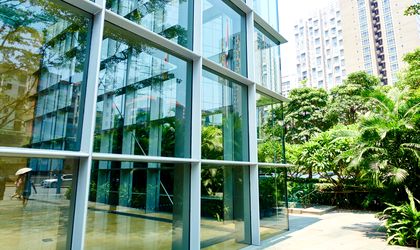 The office market in Romania is continuing to mature both through the expansion of national stock as well as through the improvement of sustainability standards.
According to Colliers International Romania, at the end of last year the total office projects that were LEED of BREEAM certified totalled 1.3 million rentable square meters, a value that represents almost half of the total number of modern office spaces in Romania.
Oana Stamatin, Associate Director of Real Estate Management Services at Colliers, said: "Lately, developers are focusing more and more on the efficiency and long-term sustainability of a building due to the benefits they can obtain as a result of going through the green certification process: reducing energy consumption, maintaining rent at a competitive level or even a better retention of tenants. The large number of developed office projects has determined tenants to become more demanding when choosing a space, so owners are trying to distinguish themselves from the competition, and green certificates are thus becoming necessary for the success of a real estate project."
Colliers International found that in 2017, 39 green certificates were awarded, compared to 29 in 2016, for real estate projects that are either in development or already completed. Of these, 24 (61 percent) were office buildings, a smaller percentage than the previous year (with 80 percent of the total) as a result of the fact that the certification activity has intensified on the retail segment as well (31 percent of the total certification 18% in 2016).
On the other hand, last year's trend was that every new office building in development obtained a LEED or BREEAM certification for a better market position. Projects that are 10 years or older have also started the process of obtaining a certification in order to remain attractive for tenants. Therefore, most certificates were given out to existing buildings, which represented more than three quarters of the market.
Nationally, real estate projects have grown significantly in the past years, and so did the interest for green certificates. While Bucharest has 1.7 million sqm of LEED or BREEAM certified buildings, other regional cities have a total surface close to this level. According to Colliers, in second place is Cluj-Napoca (500,000 sqm), followed by Timisoara (445,000 sqm). It is estimated that the total surface of certified buildings in all regional cities will exceed the Capital's total.
Photo: dreamstime.com