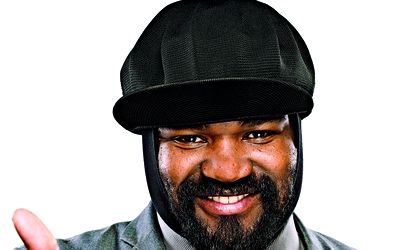 Gregory Porter, the Voice of Jazz, will hold a concert at Sala Palatului, Bucharest on April 24 within Jazz Night Out concert series.
Porter is the two times Gramm-winner for Best Jazz Vocal Album in 2014 and 2017. He is the voice of his musical generation and a leading voice in today's vocal jazz, mastering and molding gospel, blues R&B and soul.
"Gregory Porter has most of what you would want in a male jazz singer, and maybe a thing or two you didn't know you wanted."  – The New York Times
Porter was born in Sacramento and was raised in  California, where his mother was a minister. A 1989 graduate of Highland High School, he received a 'full-ride' athletic scholarship as a football lineman to San Diego State University. A shoulder injury during his junior year of high school cut short his football career.
After a period of performances at various venues in Harlem he records the albums Water (2010) and Be Good (2012).  His third album, Liquid Spirit, was released on September 2013 and won the 2014 Grammy for Best Jazz Vocal Album. Liquid Spirit enjoyed commercial success rarely achieved by albums in the jazz genre, reaching the top 10 on the UK album charts and  was certified gold by the BPI, selling over 100,000 units in the UK.
Embraced by US audience and the major jazz festivals world wide such as  Montreux, North Sea Jazz, Jazz A Vienne, Copenhagen Jazz Festival, Gregory Porter also enjoys the appreciation of music critics winning 2 Grammy Awards for Best Jazz Vocal Album, two Jazz FM Awards and also the title  Male Singer of the Year given by Journalists Association Jazz Awards in 2014.
The event is part of the Jazz Night Out concert series presented by Twin Arts. Details at www.twinarts.ro and  Jazz Night Out/Twin Arts  Facebook pages.
The tickets can be bought starting from 120 lei from Eventim network ( Germanos shops, Carrefour, Orange Shops, Vodafone Shops, Cărturesti and Humanitas bookstores, OMV gas stations) and online at www.eventim.ro