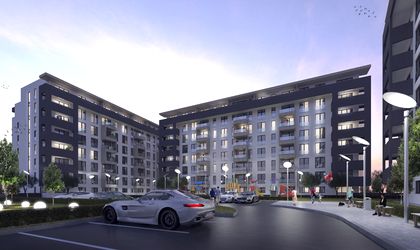 After building around 1,500 apartments in Bucharest, Spanish developer Gran Via turns its attention to Constanta, were it owns a 6.5 hectares of land plot. The Spanish wants to built there a 800-850 apartments residential project.
The land is on Aurel Vlaicu Boulevard, close the Vivo Shopping Center and the Auchan hypermarket. The name will be Gran Via Marina and it will include eight blocks, 11 storeys high.
According to economica.net, the first block will come to market with 192 apartments and the investment amounts to EUR 10 million.
The investment of Gran Via is interestic, Constanta being usually used by tourism developers, which build apartments in Mamaia, for rent in the summer season.
The Spanish developer entered the local market before the crisis, when he bought former industrial platforms in Bucharest, such as Tricodava and Frigocom, but also the land in Constanta.
The crisis froze the company's plans, but in 2013 work began on the first apartment building in Bucharest, on the site of the former Frigocom factory. In five years, Gran Via built over 700 apartments in two projects, Timisoara 58 and Gran Via Park.
The company has, as well, under construction the Aviation Apartments project, with almost 300 dwellings, close to the offices from northern Bucharest.