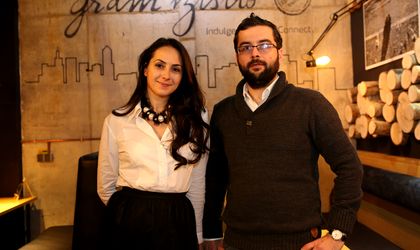 Gram Bistro is a cosy restaurant in the Victoriei Square area, with an interesting design, a general urban feeling, tasty food and fair services, which over the past year has become increasingly known as one of the trendy places around Bucharest.
The story behind this local business is equally interesting: in just under one and a half years since the take-over by new management, the bistro underwent a full market repositioning, attracting more and more customers that supported a turnover increase by almost threefold. How can an unprofitable restaurant be turned around into a successful business? What are the key value drivers? What are the major risks? Together with the owners of Gram Bistro we tried to answer these questions, from the perspective of two entrepreneurs with a relatively small business, but which already confirms its long term potential for success.
In November 2015, after several months of research, analysis and negotiations, the current owners of Gram Bistro put a stop to their 9 years careers in management consulting and took over what was at the time a coffee shop with food, known mainly in the immediate vicinity for its workday lunch special and for having a coffee in the evening. The new owners' strategic objectives when entering this business focused first and foremost on changing the overall concept and feel to "urban culinary boutique" and thus create a viable option for going out also in the evenings and during the weekend. Also, new business lines were envisaged such as gourmet catering for events. To sum up, the new identity would rest on a more vibrant urban feel, friendly atmosphere, delicious dishes and a focus on homemade or craft products.
Of course, such a major shift required a massive operational reorganization, starting from the introduction of a new a la carte menu including modern dishes reinterpreted for an urban, epicurious feel by Chef Florin Nicu, supported by a larger and stronger team in the kitchen. "We envisaged a menu that would reflect the vision of a restaurant for indulging in delicious food, exploring new flavours and combinations as well as connecting and socializing. Our food offering was one of the main strengths we wanted to build in repositioning Gram. At the same time, when developing a new a la carte menu, it is always crucial to maintain a balance between the dishes and techniques you would ideally want to have and the numerous operational constraints, between the customer's needs for both variety and fewer options, between the uniqueness of each dish and the need to keep a relatively small number of ingredients in order to ensure their freshness. We believe the most important thing in a restaurant menu, which also helps build competitive advantage, is to have something unique, that becomes known as the place's trademark, for which customers may decide to specifically choose you – in our case, we developed a selection of bruschettas we believe are spectacular in recipe, texture, look and feel.", says Adriana Danila, co-owner Gram Bistro. Also, the bar menu was re-engineered and expanded, keeping the same homemade and craft direction, in order to complement the new food menu and overall urban feel that was to be created.
From an operational perspective, efficiently managing a restaurant required the development and implementation of working processes and tools to simplify, track and analyze the main aspects related to performance improvement, cost management, procurement, inventory optimization and customer service. In addition, the whole turnaround "project" requested significant investments to ensure quality standards and an overall pleasant experience for the customers. This does not include just professional equipments, but also the little details that make up the overall "feel" of a place, such as cutlery, flowers and decorations.
Also, given the very strong competition on the Bucharest restaurant market, the marketing strategy was very important to support business development. The Gram team gradually implemented a communication strategy both online (mainly through social media) and offline (various in-house events, media dinners with bloggers and influencers, gourmet catering for various high profile events, partnerships with complementary businesses). "The positioning envisaged through marketing efforts is very important because it builds an image in the consumer's mind related to the type of place, offer, prices, experience that Gram can offer. Of course, a key factor is that at least for you, as owner, it's clear what type of feeling you want to create in the restaurant. After that, it is very important to communicate this image and try to create a "buzz" among your key target groups, which we've seen requires some time and promotional effort. In theory it sounds simple to attract 50-60 customers in one evening. However, you have to consider that in order to have 50-60 customers not just in one evening but each evening for a month, assuming they choose Gram once a month from the very large number of options out there in Bucharest, you need almost 2.000 loyal customers in the evening, so probably 10.000 potential customers that have heard of Gram and are interested to try us out. Once they do, it's all up to what you offer inside the restaurant to make sure that those that do try you out once will want to come back – more specifically, you must make sure there are not significant differences between the image you've created through marketing and what the customers experience during their visit" says Stelian Olaru, co-owner Gram Bistro.
The results for Gram didn't come over night, but during the first 3-4 months, the changes became to show in terms of number of customers and types of products ordered.
"We experienced an increase of turnover almost threefold within a year, supported mainly by an increase in sales during the evening and in the weekends. Our location next to Piata Victoriei also helped of course, as we are a viable option for all times during the day: from enjoying your morning coffee, to business lunches, after-work drinks or enjoying a glass of selected Romanian wines along with delicious dishes in good company. Of course, we are very happy to see Gram fulled of customers who enjoy themselves, socialize and savour our dishes not just once but over and over again. In order to achieve a sustainable business, the only "recipe" for the long run I believe is to create a very pleasurable experience for customers, in line with the image you want to build. This is not just about tasty food: the entire customer experience is key for their decision to come back and thus ensure long-term financial viability. This includes everything, from food plating, to tableware, services, lights, music down to the quality of the cutlery", adds Adriana.
Gram Bistro continued to gradually expand its offering and bring new experiences, from the introduction of a new breakfast menu available all day during the weekends, to gourmet catering services and events in arts and lifestyle. The way the business is run is also flexible, dynamic, focused on improving both performance and quality as basis for long term business. Thus, customer feedback is always very important.
"I think the main challenge in a restaurant is to create processes embedded with control measures to ensure a constant pleasurable experience to all customers. This includes not just product quality but also their standardization over time, serving staff performance and overall "vibe" once inside. Unfortunately, no matter how much care is given and how many checks and trainings are in place, it is probable that sometimes there will be mistakes. When they do arise, it is critical to manage them quickly and as good as possible and develop lessons learned. From a business sustainability point of view, and taking also into account that we're fairly young on the market, a table of customers that leaves dissatisfied has a very big impact on us. I think this is the main risk that a restaurant is faced with, which actually embodies all the numerous causes that could lead to this dissatisfaction. There are a lot of new restaurants that open in Bucharest; a lot of them seem successful for the first months up to one year, as the early adopters of the audience try them out. The key to success however is to not let a few good days "get to your head" and be as connected as possible to the customers and their experience, in order to make sure that they are likely to return", considers Stelian.
Of course there are numerous risks and challenges for any entrepreneur opening a restaurant business, from ensuring compliance with the numerous legal requirements to forming and maintaining a trustworthy team and ensuring product quality and standardization. The story of Gram is just beginning but still it shows that a structured approach, passion in what you do and customer orientation make indeed a difference.