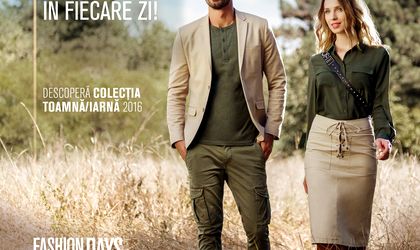 Graffiti BBDO has worked with online retailer Fashion Days on the creative concept of "Reinvent yourself every day" campaign that was rolled out starting September 15 for the Autumn-Winter 2016 season's collections.
The promotional campaign of the new collection targets all the categories of clients and is created around the 10 major characters: The Artist, The Star, The Temptation, The Explorers, The Princess, The Best Friend, The Champion, The Rebel, The Inspiration and The Queen of the Night.
"The new campaign, one of the most complex one so far, arrives to complete the campaign Time to Change launched at the beginning of the year. Fashion Days stands for change, creative ideas, courage, but also the best selection of products and brands, with the help pf which every client can be everything he wants, every day," said Andrei Chirila, chief marketing officer of Fashion Days.
"In 2016, the women's role in the society is no longer a predefined one, but the one she chooses. Other said, you are the one you want to be. Maybe yesterday you were a princess or an athlete, but today you are a traveler, a fairy or a star. Women are defining themselves each day and gives them the necessary outfits to be whomever they chose to be. Because even the clothes do not make the man, they are still one of the easiest ways we have at our disposal to define our personality," said Titus Dumitrescu, creative director Graffiti BBDO.
The new campaign communicated through the major TV stations, online, outdoor billboards, cinema, and social media activations. The TV spot was filmed by Barna Nemethi, famous director, script writer and photographer.
The Fashion Days team that worked on this campaign included: Andrei Chirila, Chief Marketing Officer, Teodora Saguna, Head of Brand Advertising & PR, Iulia Sas, Creative Director, Andra Blaj, Brand Manager, Anca Giupana, Head of Content Production, Catalina Ivan, Studio Coordinator, Ana Popa, Stylist.
The Graffiti BBDO team comprised: Titus Dumitrescu, Creative Director, Ioana Mihai, Strategic Planner, Mihai Calota, Art Director, Alex Tocilescu, Copywriter, Despina Stoica, Senior Account Manager, Oana Preda, Account Manager, Andreea Sandu, Client Service Director.
Production company: DeFilm Production
Director: Barna Nemethi
DOP: Alex Galmeanu
Music: Yellow
Romanita Oprea